Justin Timberlake: Golfer Russell Knox mistaken for US pop star
Last updated on .From the section Golf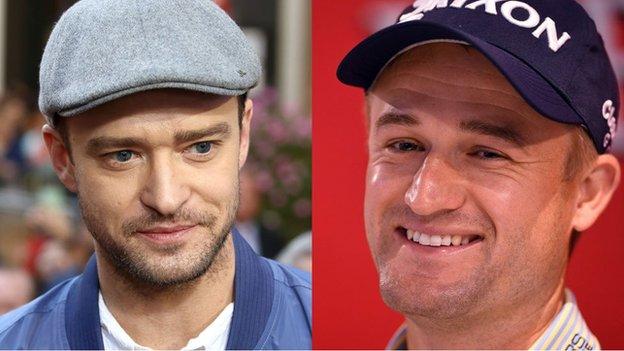 Russell Knox has told of being mobbed by music fans who mistake him for pop star and actor Justin Timberlake.
The WGC-HSBC Champions event defending champion said his wife, former tennis player Andrea Hernandez, did not believe him at first.
The Inverness-born, US-based golfer said: "She was like: `No, never. I don't see it. I don't think so'.
"And that same day, at the St John's Town Center, this woman runs up to me screaming."
But Knox added that the excited music fan quickly realised her mistake. "She gets five steps away and was 'Oh' and walked away," he said.
Turning to his prospects at this week's WGC-HSBC Champions event in Shanghai, the Scot said he finds it difficult to think of himself as the defending champion because he did not feel he could win.
The Florida-based Scot won the prestigious event 12 months ago, beating some of the world's best players to capture one of golf's biggest prizes outside the four majors.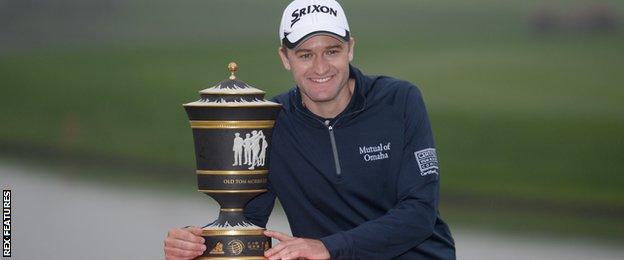 "I just still can't believe I won," he said. "I keep going over it in my head, the course and who I was playing with.
"I can't believe I got the job done. This course is hard, conditions were tough and I somehow shot 20 under - a dream come true."
Knox, who currently sits 20th in the world rankings, begins his defence in Shanghai in the early hours of Thursday morning.
He said he will take confidence with him on to the course that should inspire him.
"I can stand on the putting green here and look around and be like 'hey, I've beaten all these guys over 72 holes'," said Knox.
"That's a real confidence booster. I need to look at it the same way this week.
"I can't expect to go out and win again, but at the same time, I know I'm capable.
"I just have to go out and enjoy my golf, be aggressive and try and smile."