Tiger Woods: Martin Kaymer criticises 'nasty' reaction to golfer's arrest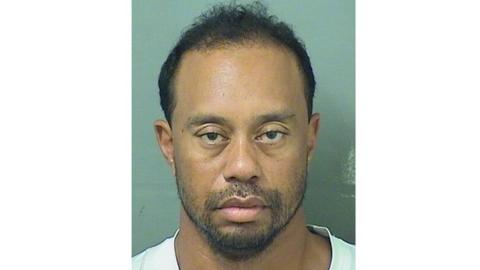 The reaction to Tiger Woods' recent arrest has been "disrespectful and unfair", according to former world number one Martin Kaymer.
Woods, 41, winner of 14 majors, was found "asleep at the wheel" with the engine running when he was arrested on Monday in Florida.
The American said it was because of a reaction to medication.
Kaymer said: "Stop being so nasty. Try to help. We all want to see him happier and one day see him play golf again."
Palm Beach County police released video of Woods' arrest and subsequently of his breathalyser test inside the Sheriff's Office, which shows the former number one handcuffed and appearing to sit slumped on a chair.
He was initially charged with Driving Under the Influence (DUI).
"Obviously a lot of people know what happened to Tiger Woods the last few days,'' Kaymer said in a video on his Twitter account, seemingly in reaction to disparaging remarks on social media.
"There's so many comments, so many opinions. They are so unfair and so disrespectful, in my opinion.
"He inspired kids, teenagers; he inspired all of us.
"I find it so nasty that people just kick him while he's already on the floor, and at the end of the day it's just using someone else for your own sadness. Yes, he's in the public eye, he's in the spotlight a lot, so of course people will talk about him.
"But why so nasty? Why don't you try to do the opposite and help him now in the way he inspired us?''
Woods has been recovering from back surgery - his fourth such operation - and is expected to be out of action until October.
Sorry, this content is no longer available.