BBC Sport - Women's US Open is first female major championship at Trump National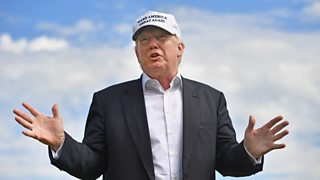 Trump-owned course to host women's major
The 2017 Women's US Open is the first female major championship to be held at a course owned by President Donald Trump.
The decision to host the Open at Trump National in Bedminster, New Jersey, has attracted some controversy after comments about women by Trump surfaced in the run-up to the US presidential election in 2016.
The 2022 PGA Championship, one of the four majors in the men's game, is also scheduled to be played at the Bedminster course.
The BBC documentary 'Driving Change - Golf's Battle for Equality' is on BBC News Channel on Saturday, 15 July at 13:30 BST and Sunday, 16 July at 00:30 and 10:30.