Jordan Spieth: Open champion aims for career Grand Slam at US PGA Championship

By Iain Carter
BBC golf correspondent
Last updated on .From the section Golf164
Jordan Spieth's rigid mental resolve is perhaps the most feared commodity in the game of golf.
Potentially it could make him the most successful player of the current generation. He is already three-quarters of the way to a career Grand Slam, a feat achieved before his 24th birthday on Thursday.
The power generated by Dustin Johnson's athleticism or the imperious ball-striking of Rory McIlroy are eclipsed by the composure, determination and cussed competitiveness of the new Open champion.
"Considering the depth and parity in our sport, there's numerous guys who can tee it up every week and expect to win majors," the 2015 winner Zach Johnson told BBC Sport.
Johnson then made the telling observation about Spieth: "He certainly has the intangibles between the ears that many of us strive for, it's very impressive."
Spieth's mental strength helps him pull together the other components of his golf game that are undoubtedly impressive but not as outstanding as those possessed by many of his rivals.
He has courage too. Last week's Open was slipping from his grasp during a tortuous first 13 holes of his final round.
Spieth's three-shot advantage had turned into a one-stroke deficit before he summoned sufficient poise to embark on the title-winning sequence of birdie, eagle, birdie, birdie to complete four rounds in the sixties and claim his first Claret Jug.
"It's one thing to come back from a bad round and play good but it's another thing to come back from a bad beginning to a round and just obliterate the golf course over the last five or six holes," Johnson said.
"That is the sign of a true champion. We are talking about Jordan Spieth, it is not like he doesn't know how to do it."
But, even though the young Texan had won the 2015 Masters and US Open, this was his first genuine chance of adding to his major tally since blowing the 2016 Masters.
We all remember at the short 12th he dumped two balls in the water and Danny Willett pounced to snatch the Green Jacket.
So at Birkdale, Spieth - who was bolstered by a pep-talk on a recent holiday with record-breaking swimmer Michael Phelps - needed self belief in abundance to avoid throwing away another major.
"He's heard a lot since that 2016 Masters and I'm sure there are doubts that have crept in," his caddie Michael Greller told BBC Radio 5 live.
"He just said 'you know what? I know how to do this'. He's now won three majors and it was just cool to see him with his back against the wall, probably more than at 12 at Augusta in '16, and he showed his character and his grit."
Next month Spieth can become the youngest golfer to complete the career Grand Slam. The PGA Championship, starting on 10 August, is the only missing major and he will head to Quail Hollow with tremendous appetite to make it a full house.
But according to the man who knows him best on the golf course, the pressure will have eased from Spieth's shoulders.
"I would expect him to be free rolling, he's played there before, he played there in 2013 and I think it's a great course for him," Greller said.
"We will go to Akron the week before (for the WGC Invitational) and play into it and hopefully set up a great rest of the year."
Whatever happens, Spieth has already substantially elevated his standing by winning three separate majors.
Given his rapid rate of collection, there are those who believe him to be the heir apparent to Tiger Woods or even Jack Nicklaus.
"Much is being said about the fact Jordan and I were able to win three legs of the Grand Slam before the age of 24," Nicklaus said on his website.
"But if you look, he's won 11 tournaments and I had won eight before 24."
Nevertheless it is way too soon to make career comparisons, even when Spieth's win ratio sits alongside those two greats of the sport.
"I'm very careful as to what that means going forward because what those guys have done has transcended the sport," Spieth observed.
"And in no way, shape or form do I think I'm anywhere near that, whatsoever. So it's a good start, but there is a long way to go."
Spieth's maturity with his words mirrors his growing composure on the course. It enables him to avoid wasting shots and turning potentially three strokes into two under the most intense pressure.
"You just don't know, really, what your mind is going to do to you sometimes," he said. "You can control it to an extent but certain situations are going to bring more tension and you have to kind of channel that the right way, play the right shots."
The new Open champion knows he will be under even more scrutiny going forward. "Things have happened very quickly," he said.
"And it's good and bad, because a lot comes with it. And a lot more attention versus just being able to kind of go about your own thing. And I never realised how underrated that was.
"I wanted to be in this position but, here and there, it becomes harder when it doesn't go your way. And you're harder on yourself because you expect so much."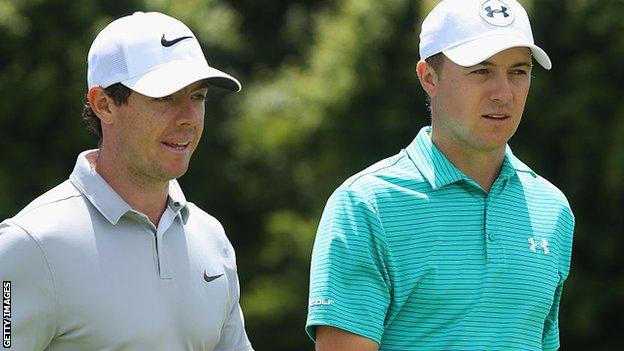 Spieth's return to major winning ways sends a powerful message to McIlroy and the other leading lights. They know the task of adding to their own collections of golf's biggest prizes is made all the more difficult by this remarkable young American.
McIlroy showed his own mental fortitude to finish in a share of fourth place after his potentially ruinous start last Thursday, when he was five over par after six holes.
But, inescapably, this was another major in which the 28-year-old failed to genuinely contend at the sharp end of the championship.
McIlroy has four majors, Spieth is just one behind and is more than three years junior to the Northern Irishman. Who will end up with more titles from golf's big four events?
The current evidence probably suggests the American, who has now climbed to number two in the world.
But McIlroy also has ample supplies of guts and determination and last week's result at Royal Birkdale is likely to kick those qualities to the fore.
And they will be needed because we can all now be certain of the extraordinary resolve of The Open's newest champion.