Stacy Lewis and Sergio Garcia show the human side of golf at the top level

By Iain Carter
BBC golf correspondent
Last updated on .From the section Golf21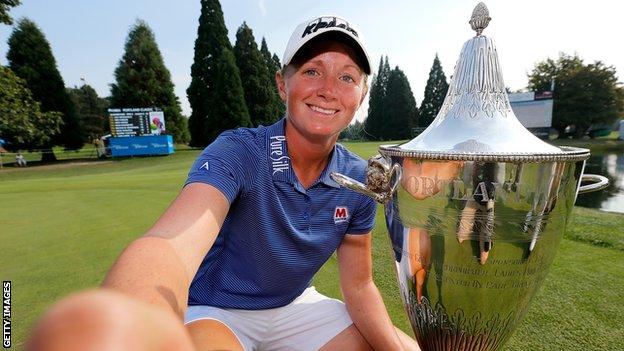 Top golfers can be regarded as sporting machines. Often they are so metronomic in their actions aimed at perfect ball-striking they become shorn of personalities, hidden beneath sponsor-clad caps with their eyes shielded by obligatory shades.
Their coaches instil meticulous routines to form a technical bedrock, while psychologists apply techniques to take away distracting emotions.
And it all gets boiled down to that most boring of mantras: one shot at a time.
But then there are occasions when we are left in no doubt it is a game being played by real people - athletes with perspective, players struggling to contain their feelings, or performing amid life-changing events.
Periodically, things happen that remind us golf is a most human pursuit - and right now there is plenty to go on.
Stacy Lewis ending her long winless run to maximise benefit to victims of the recent Texan flooding is a prime example.
There was also the fit of temper displayed by Sergio Garcia that left him without a putter in Boston on Sunday.
Lee Slattery's near miss in Prague came with his pregnant wife a week overdue, and sad circumstances have led to a switch of captain for Great Britain and Ireland's Walker Cup defence this weekend.
Lewis has, quite rightly, attracted plenty of headlines for her remarkable LPGA victory at the Cambia Portland Classic on Sunday.
The 32-year-old lives with husband Gerrod Chadwell in the Woodlands area near Houston, Texas. They were lucky - their home is elevated and survived the devastating flooding prompted by Storm Harvey.
But last week Chadwell, head women's coach at the University of Houston, found himself kayaking to rescue electrical equipment from his team's training base at the Golf Club of Houston.
Many of the couple's neighbours and friends have been affected, and Lewis did not hesitate to announce she would donate any money she won in Portland to the relief effort.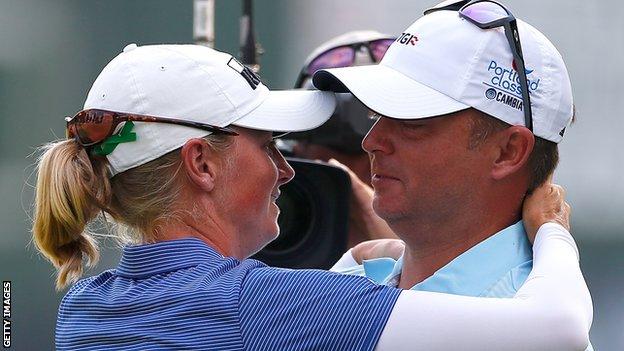 The Solheim Cup player made the announcement before a tournament in which she was trying to end a three-year winless streak. In that time, she had finished runner-up on a dozen occasions.
Lewis found herself in contention once more on Sunday, but coming down the final stretch South Korea's In Gee Chun threatened to make it another missed opportunity.
"I was so focused on giving every shot 100% because I knew what it meant," said Lewis.
"I just kind of handed over control and said: 'Take me. Take me to the finish line. Let me know what happens, God.'"
Lewis won by a single stroke. Her £150,000 winner's cheque was matched by one of her sponsors, yielding £300,000 for the Harvey relief fund.
It was her first tournament win since marrying Chadwell.
"You go through all the emotions of finishing second when sometimes it's your fault and sometimes it's not," she said.
"And things just don't seem to ever go your way and you get really frustrated at times. He went through all of that with me, and it was probably as hard on him as it was on me."
Elsewhere, Garcia's wife Angela Akins no doubt shared in her husband's frustration as the Spaniard tumbled down the leaderboard at the Dell Technologies Championship with a bitterly disappointing third-round 75.
Always a player who has struggled to hide his emotions, Garcia suffered self-inflicted damage as early as the fourth hole. A dismal putt for eagle prompted an angry swish of his putter, which crashed into a sprinkler head.
The resulting damage altered the club's playing characteristics, meaning he was no longer allowed to use it. Garcia tried putting with a three wood, driver and three iron in a round that ended with a double-bogey seven.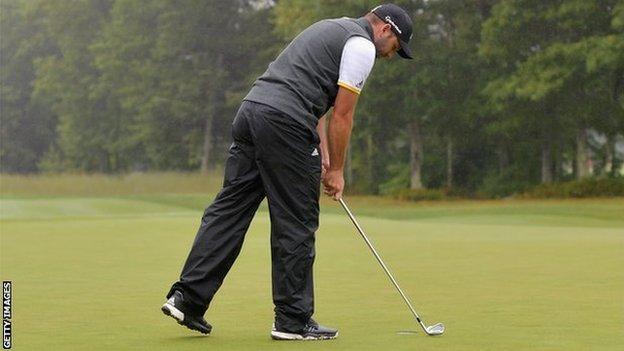 At such times, placing golf into its proper perspective is rarely easy. But when real life intervenes, the game has to be relegated in significance.
That has been the case for Craig Watson, who has spent much of the past two years preparing to lead Great Britain and Ireland's top amateurs against the United States this weekend.
Sadly, Watson has relinquished the role because of a serious illness in his immediate family. R&A chairman of selectors Andrew Ingham will now captain the team trying to retain the famous trophy at Los Angeles Country Club.
On a happier note, Slattery was able to take a philosophical approach to his defeat at the European Tour's Czech Masters on Sunday.
A final-round 73 meant a potential winning position was squandered by the Englishman, who lost by two strokes to South Africa's Haydn Porteous.
"Great win pal, enjoyed the battle. I'll get you next time," Slattery tweeted the victor as he left Prague to start a four-week break during which the arrival of his baby daughter and moving house will take precedence.
Porteous, meanwhile, celebrated a much-needed win that sums up the emotional nature of golf at every level.
"It's been a really torrid time through the last eight, nine months," said the 23-year-old, who missed 14 out of 16 cuts earlier this season.
"When you start playing on the European Tour you start to lose yourself, you lose how you got out here in the first place. To then find yourself again is key.
"I'm sure this evening's not going to be the most professional moment of my life, but there's nothing wrong with having a bit of a celebration."
Quite right too. We're all human, after all. Even top golfers.