PGA Cup: Will Great Britain & Ireland victory be springboard for club golf?

By Iain Carter
BBC golf correspondent
Last updated on .From the section Golf11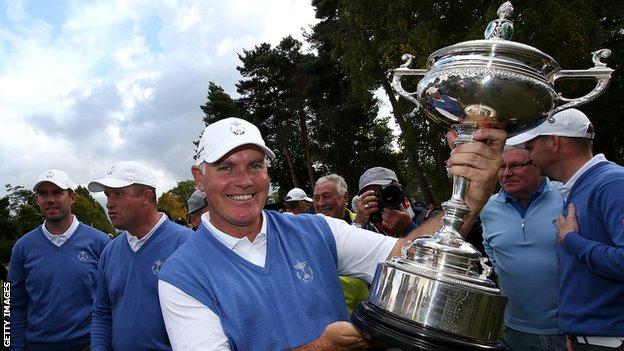 Golf's authorities are under scrutiny following the farce of a 54-hole women's major and a ridiculously prolonged drop for Masters champion Sergio Garcia on the PGA Tour.
But while the Evian Championship struggles for major credibility and Garcia's drop overshadowed Marc Leishman's heartwarming BMW Championship triumph, there was a happier story to reflect upon closer to home.
This is because the United States' domination of golf's biennial transatlantic jousts remains incomplete.
The Ryder, Solheim and Walker Cups have headed west in the past year or so, but the trophy contested by players with the closest contact to average club hackers remains on this side of the Pond.
And Great Britain and Ireland's record-breaking 16-10 victory over their American counterparts in the PGA Cup could provide a springboard for enthusiasm to percolate through to hundreds of thousands of ordinary golfers in the weeks and months to come.
That is the hope of victorious skipper Albert MacKenzie, who steered his team of club professionals to their emphatic triumph at the Foxhills club in Surrey on Sunday.
"I think every club professional will be talking to their membership about how great this victory was," MacKenzie told BBC Sport.
"It'll be something that all PGA professionals will be thrilled to chat about. There will be a ripple effect so that hopefully the conversations will continue and put a smile back into the game over here."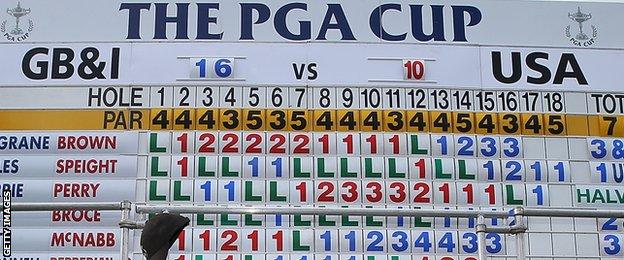 MacKenzie's team have been returning to their respective clubs to resume teaching and fitting duties and do so having earned recognition from European Ryder Cup skipper Thomas Bjorn.
The Dane congratulated Great Britain and Ireland on social media when they swept through the singles after taking a one-point advantage into the final sequence of matches.
"To get Thomas Bjorn taking the time and effort to tweet congratulations to our team, it just shows you how important the event is," MacKenzie said.
"And I'm just glad we could put a record 16 points on the board against the Americans. I will have a smile on my face for evermore."

The United States' men won back the Ryder Cup last September and Europe's women fell to a heavy defeat in August's Solheim Cup in Iowa.
Then came the recent comprehensive thrashing by the leading American amateurs against Great Britain and Ireland to take back the Walker Cup.
"We could see the ebb and flow of the strengths of American and European golf shift a little bit over the past two or three years," MacKenzie added.
"It was very important that we put an emphatic marker down for GB and Ireland - and for Europe - to say we're going nowhere, we're still very competitive and if you want to get the trophy back it is not going to come very easily."
The Aberdonian, who is based at the magnificent Saunton Golf Club in Devon, implored his team to scale the heights during the three-day match.
"They didn't climb the mountain, they ran up the mountain," he said.
"Golf should be about enjoying yourself and having fun. We've enjoyed ourselves and had fun last week - we said enjoy, relax and believe and hopefully some of that fun and enthusiasm can filter into the many arms that come off the professional bodies.
"Golf's a great game and we just hope what we've achieved will put a smile on everyone's face and carry more people onto the first tee more regularly."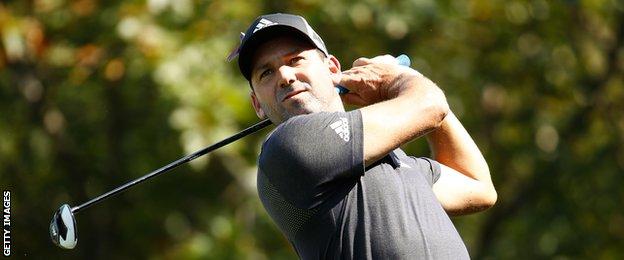 By contrast, it is hard to see how the near half hour it took to decide Garcia's final-hole drop at the PGA Tour's BMW Championship will entice more players to the game.
Whatever the ins and outs of the ruling - the Spaniard eventually gained relief from a grandstand with his ball in the confines of a water hazard - the time it took to settle the issue was a slight on the professional game.
Protocols are urgently required to ensure rulings involving referees are swiftly administered regardless of a player's sense of grievance. This happens in every other sport and golf should be no different.
And nor should the parameters of a major be changed if the event wants to be judged as a tournament that defines careers.
The shortening of the Evian Championship from 72 to 54 holes after Thursday's inclement weather substantially weakened the event's claim to major status. It also betrayed the women's game.
Anna Nordqvist, the standout member of Europe's recently defeated Solheim Cup team, was the eventual champion in thrilling style but, sadly for all concerned, it is a victory that will always carry an asterisk.
Thankfully, no-one will ever have cause to say that of the triumph achieved by the usually unheralded Great Britain and Ireland pros who stepped up so magnificently into the limelight last Sunday.