Blane Dodds wants club members to help to raise £4m in additional funds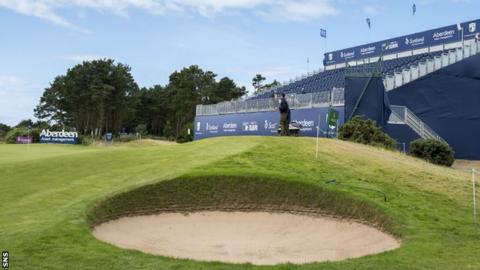 The chief executive of Scottish Golf, Blane Dodds, is asking members of clubs throughout the country for additional money to help grow the game.
Currently, club members contribute £11.25 of their annual memberships towards the sports' governing body.
Dodds is proposing an increase of around £10 to raise an additional £4m over the next four years.
A one-off fee for overseas golfers has also been suggested in a bid to increase revenue.
"If we don't [raise] that affiliation fee then we will be making significant cutbacks," said Dodds, who anticipates a drop of around £400,000 to next year's budget unless changes are implemented.
"It is a very ambitious new plan. It's around increasing the affiliation fee nationally so we can invest in all the ways we are suggesting so we can bring in more money ourselves and invest more in the game in Scotland.
"It's for all club members in areas and counties to benefit from."
One of the issues with golf in Scotland is that fewer young people are joining clubs and former Open champion Paul Lawrie believes that the expense of the game is deterring the next generation of talent.
Dodds insists, though, that by raising affiliation fees, money can be invested in attracting young players to the game.
A vote on the proposed increased will be held at a Special General Meeting in early December.
"Only 11% of our membership is under the age of 34 so that is a challenge," Dodds said.
"We have to look after our older clientele and members, who clearly enjoy golf.
"We need to not alienate them, so we have to invest in them as well, but we need to bring in new entrants to the game.
"Younger clientele and the family market is something we are looking at with this new approach. We plan to invest in our facilities and help clubs grow. We want to make what they offer more appealing to a wider audience."
Scottish golf clubs have seen memberships drop to just below 200,000 over the past two years, but there are around 500,000 occasional players in the country who are not club members.
'Some clubs have been left behind'
Dodds believes that if there is an improvement in facilities that can be showcased in an attractive way, then it is possible to increase the membership numbers.
"It's about putting clubs back into the centre of the community and creating an asset that is going to appeal," he said.
"We can look at the trends in the marketplace and where the growth has been in the last couple of years.
"Some clubs have done really well while others have been left behind. We want to help clubs develop a range of services and facilities, and provide value for money that presents huge appeal to the community, so we can reverse that trend."
Another area of concern for Scottish Golf is the lack of female participation in the sport.
Only 14% of current golf club members are women and Dodds says lessons can be learned from other sports like tennis.
'It's important to give facilities that girls are comfortable with'
He also believes that the additional revenue will help increase the number of females taking an active part in golf clubs throughout the country.
"One of the things that works is female coaches to female players," Dodds said.
"That is one thing we have learned from tennis and the great work that Judy Murray is doing.
"But what is very important is to give facilities and the culture and atmosphere within our clubs that young people and in particular girls are comfortable with.
"That is part of the plan going forward and it links in with the golf club being a community asset."