Emily Nash: Organisers 'may consider changes' after winner denied trophy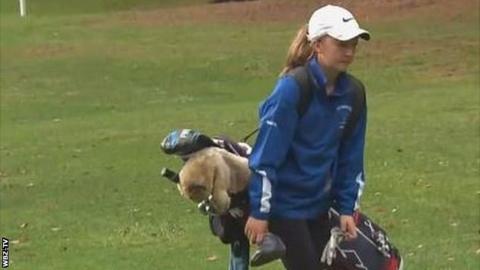 Organisers "may consider changes" after a girl won a boys' golf tournament but was not allowed to have the trophy.
Emily Nash, 16, shot the round of the day for her school team at Blissful Meadows Golf Club, near Boston.
But competition rules state that, while girls can play, they cannot compete for individual prizes. Instead, they have their own tournament every spring.
"The rules are clear and Emily has been part of these competitions for five years," a spokesman told BBC Sport.
Richard Pearson, an associate director at Massachusetts Interscholastic Athletic Association, added: "There has been a lot of attention around this story and the golf committee may consider changes."
Nash shot a three-over-par 75 at the Central Massachusetts Division 3 boys' golf tournament - three strokes better than the rest of the field - but her score only counted towards the team event.
A statement on the MIAA website said: "Girls playing on a fall boys' team cannot be entered in the Boys Fall Individual Tournament, they can only play in the team tournament."
The statement went on to congratulate Emily "on her performance and wish her continued success".
Despite the fact she was denied the trophy, Emily told her local paper - the Worcester Telegram & Gazette - that she was "disappointed, but I understand that there are rules in place".