Justin Rose: Turkish Airlines Open winner has trusted man on his bag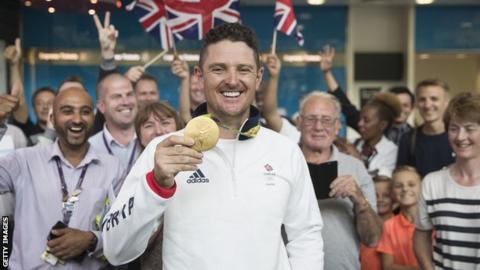 Justin Rose celebrated with a vicious upper-cut on the final green in Rio to demonstrate just how much winning Olympic gold meant to him.
As the GB star disappeared into the recorder's hut his most trusted assistant, Mark Fulcher, laid down his boss' bag.
At this juncture, I thrust my BBC 5 live microphone towards the caddie, seeking comment to capture the moment. The normally fulsome Fulcher tried but his words quickly became stuck in a quagmire of emotion.
This seemed to be the ultimate triumph for a fiercely patriotic bagman who is also immensely proud to work for one of Britain's greatest golfers. It rendered him speechless.
In a year when we have seen several long-term player/caddie splits, most prominently Rory McIlroy and JP Fitzgerald as well as Phil Mickelson and Jim 'Bones' McKay, it is worth reflecting on the continuing success of Rose's working relationship with his fellow Englishman.
Together now for nine years, they won the 2013 US Open as well as last year's gold medal in Brazil. There have been regular victories on the PGA Tour and now back-to-back triumphs on the European circuit.
Two weeks ago it was WGC success in Shanghai thanks to an astonishing comeback from eight strokes behind world number one Dustin Johnson.
Then on Sunday, at the Turkish Airlines Open, Rose won a three-way shootout with Nicolas Colsaerts and South Africa's Dylan Frittelli.
Yes, it was Rose who hit the shots that yielded three birdies in the last four holes - including the winning 12-foot putt on the final green - but it was the experienced 'Fooch' who helped ensure his player was in the right frame of mind to do the job.
Midway through the back nine on Sunday the caddie made a timely intervention as Rose started to push for victory.
"He said, 'just trust your experience'," Rose revealed. "He could sense, maybe, I was getting frustrated when I didn't birdie 13 or 14.
"I think that was his way of saying, just stay with it. You don't have to birdie every single hole to win. Sometimes you don't have to do as much as you think you have to do."
As it turned out, Rose actually needed to put together a grandstand finish and the fact that he duly obliged illustrates the class of golfer the 37-year-old has become.
Winning tournaments is hard, very hard. Doing it in consecutive weeks against strong opposition is the preserve of only the very best players.
"The golf course didn't know that I won last week," Rose observed. "So I had to come here and build a whole new fresh body of work.
"The golf course doesn't know I'm 37 and I've been a pro for a bunch of time and the highest-ranked player in the field. The golf course doesn't care about any of that stuff."
Everything Rose has achieved has been hard-earned, building a swing and putting stroke to withstand the greatest of pressures.
"It's been 20 years of hard graft, hard work, and I've achieved a lot," the world number six said after his latest victory.
"I've achieved a major championship. I've won Olympic gold. I've won a lot of other tournaments. I've had some great moments."
They include four Ryder Cup appearances where he boasts a 63% winning percentage and has suffered only one singles loss. This pair of big-money victories have all but ensured a fifth appearance for Europe at Le Golf National next September.
"Do what you need to do all year long and just be ready for September," Rose replied when asked what messages he has been receiving from captain Thomas Bjorn.
"That's the key. Winning now is important. Winning now gets you on the team.
"But winning now doesn't win points in the Ryder Cup. Playing well in September does. There's a lot of pacing yourself that needs to be done."
This mature mentality explains why Rose is skipping the penultimate stop on European Tour schedule, the Nedbank Challenge in South Africa, rather than chasing more Race to Dubai points.
Now within 135,000 points of long-time leader Tommy Fleetwood, Rose might have been tempted to play again.
But that would mean missing valuable family time back in the Bahamas and playing four weeks on the spin.
Rose is experienced enough to know that does not work for him. He wants to be fresh for the season-finale at the DP World Tour Championship in Dubai the following week.
He has twice been a runner-up in that event and it is one where he has some unfinished business.
"I feel like it's a tournament I have won," Rose smiled.
"I remember playing the last hole with a two-shot lead and making birdie; that was the day I shot 62.
"Rory [McIlroy] was a few holes behind but very rarely are you two ahead playing the last, make birdie and lose. Rory birdied the last five to beat me that year."
That was back in 2012 and a year later Rose became a major champion. His current form shows why we should continue to recognise him as one of British and European golf's leading figures.
Certainly his caddie Fulcher is in no doubt of the quality of the sportsman his boss has become.
"When you spend a long time with somebody and you go through some battles on and off the course, you develop a bond," he said last year.
"I'd walk through fire for Rosie."
Fulcher's comment shows the respect and admiration he holds for an enduring elite performer. It is a sentiment that should not be lost on the British sporting public.