Tiger Woods and Thomas Bjorn facing risks in different challenges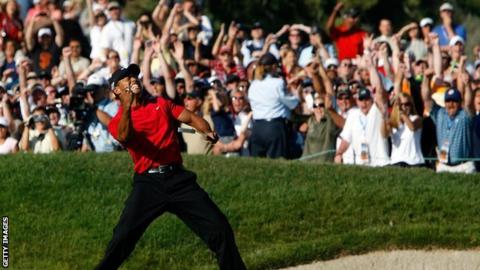 Thomas Bjorn is about to try out captaincy skills on likely members of his Ryder Cup team and Tiger Woods has chosen to resume his PGA Tour career at a course where he has enjoyed eight victories.
At face value both have much to gain from these encouraging scenarios.
This week Bjorn leads Europe against Asia in the appropriately named EurAsia Cup and on 25 January Woods will tee it up at Torrey Pines near San Diego. They are separate narratives but share in common the fact that they both carry elements of risk.
Woods has won seven tour titles and a US Open at the Californian venue for the Farmers Insurance Open. In his current circumstances, though, he has given himself the toughest of tests for his first genuinely competitive tournament for a year.
Yes, there were encouraging signs when he played his own limited field event in the Bahamas last month, but competing at Torrey Pines against a full PGA Tour field is a different proposition.
The North and South courses are severe tests, especially the latter which measures more than 7,600 yards. Since winning there in 2013, Woods' record is awful - finishing 80th, withdrawing through injury and last year missing the cut.
Easier options were available, including either the upcoming Abu Dhabi Championship or Dubai Desert Classic where the weather would be warmer and the courses less physically demanding.
No doubt, though, Woods feels a sense of duty that his latest return should be made on his home tour. In which case he might have been better heading to the January events in Hawaii or La Quinta - where the tournament title, the Career Builder Challenge, offers a coincidentally appropriate feel.
Instead he will take on Torrey Pines and then plans to play the Genesis Open at Riviera in Los Angeles, which is another formidable examination. It is one of the few regular tour stops where he has yet to register a win, despite 11 attempts.
As an important event for his foundation, this tournament was always likely to figure on the 42 year old's schedule. But in the wider context of the resumption of his career it represents another tough hurdle.
The risk is that it may take longer for Woods to gain much needed momentum and confidence than if he had chosen easier venues.
With risk, though, comes reward and were he to make cuts and end either week at the right end of the leaderboard he would generate vast quantities of self-belief and stoke expectation.
Bjorn, meanwhile, is looking to reap the rewards of using a team environment to familiarise himself with several players likely to make his Ryder Cup team in September.
The Dane captains a formidable-looking European line-up against Asia this week at the Glenmarie Golf and Country Club in Kuala Lumpur.
Ten of the dozen players are ranked inside the world's top 42, including number nine Henrik Stenson and Paul Casey, 14 in the world. The average ranking of their Asian opponents is 127.
"We have a strong team but the great thing for me is that I will get to spend some time with all of them and with the younger players in particular, in a team environment," Bjorn told readers of his recent captain's blog.
"When they come into that team-room environment it is a little bit different and the hierarchy evolves with some senior players showing the way while the younger players will lean on them a little bit."
But the golfers Bjorn will be captaining are just returning from their Christmas breaks. There may be understandable rust and that might make them vulnerable.
"It's all well and good for Thomas to be leading a strong team, but there is a risk," a leading figure at the European Tour told me. "What if we were lose? You have to think about that.
"It means there's quite a bit on the line in the EurAsia Cup."
Two years ago Darren Clarke kicked off Ryder Cup year with an emphatic 18½-5½ victory with a European team that included five players who went on to face the Americans at Hazeltine.
With the likes of Stenson, Casey, Tommy Fleetwood, Tyrell Hatton, Alex Noren, Ross Fisher and Matt Fitzpatrick in action we can expect a sizeable number of this team to also be on duty for the mission to win back the Ryder Cup later in the year.
"As well as spending quality time with the players, the EurAsia Cup will also give them a little bit of a different perspective in how they see me," Bjorn observed.
"Day in, day out, they see me as a player, inside the ropes, playing the game with them.
"Now I am in a different role and that week will give me the chance to build relationships that might well stand me in good stead in France next September."
The 24 players involved will split $4.8m in prize money but this is more than a lucrative early season friendly knockabout.
European team members have their chance to make a big impression on the Ryder Cup skipper, while Bjorn himself has the opportunity to learn plenty about his role.
There is much to be gained, but against a team that boasts only two top 50 players - Yuta Ikeda (36) and Kiradech Aphibarnrat (49), Europe's skipper can ill-afford his confidence being knocked by a shock defeat.