Hawaii missile strike alert: Fear, panic and relief at PGA Tour event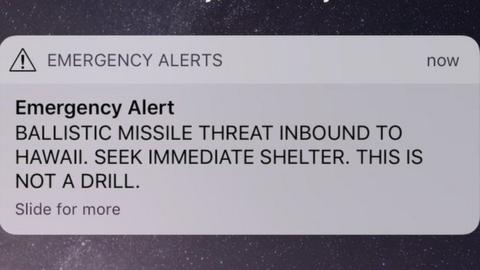 World number four Justin Thomas said he prepared for the end after an alert, warning of an imminent missile strike, was wrongly issued in Hawaii.
American Thomas was among the golfers playing at the US PGA Hawaii Open in Honolulu when the warning was issued.
The alert turned out to be a false alarm but a second message confirming this took 38 minutes to arrive.
"I sat on my couch and opened up the sliding door and watched TV and listened to music," Thomas, 24, said.
"I was like 'there's nothing I can do. If it's my time, it's my time'," continued the defending champion, who also won last year's PGA Championship and FedEx Cup.
"I was really scared there for probably three or four minutes," he added.
Thomas was not sent the original message but was made aware of the situation by fellow professional Tom Lovelady.
He then tweeted: "To all that just received the warning along with me this morning...apparently it was a 'mistake' - hell of a mistake!!
"Haha glad to know we'll all be safe."
The initial message caused widespread panic and fear in Hawaii on Saturday.
It came amid growing concern over North Korea's missile and nuclear programme. Hawaii is the closest US state to North Korea.
Other players were less accepting than Thomas. "Under mattresses in the bathtub with my wife, baby and in laws. Please lord let this bomb threat not be real," tweeted American John Peterson, who was tied for second at one point but dropped to 40th.
"To get that missile threat on your phone, you don't know what's going to happen," said compatriot Tom Hoge.
However Hoge was able to recover, shooting a six-under-par round that saw him take a one-shot lead over the rest of the field with one round left to play.
In December, the state tested its nuclear warning siren for the first time since the end of the Cold War.
State Governor David Ige apologised to Hawaiians, saying an employee had pressed the wrong button.
The US government has announced a full investigation.
Golfers react with terror...
...Relief...
...anger....
...And eventually, humour