Tiger Woods and Rory McIlroy continue encouraging comebacks before Masters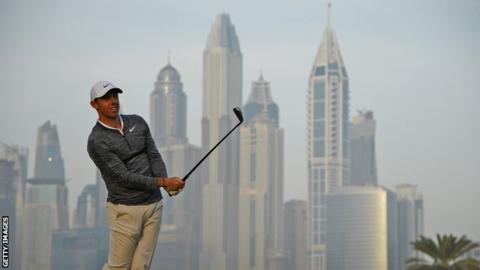 Encouraging comebacks from Tiger Woods and Rory McIlroy, along with the emergence of Asia's latest superstar, should stoke golfing interest despite the dreadfully undermining effects of slowcoach players.
There was much to stir and intrigue fans on opposite sides of the world at the weekend. Woods completed a successful return to the PGA Tour in California, while McIlroy - fresh from his three-month sabbatical - was frustrated by another near miss in the Middle East.
Yet, as fascinating as the performances of both titans proved, the curse of slow play meant golf could not take the chance to portray itself in its best light.
Woods' appearance at the Farmers Insurance Open at Torrey Pines brought a predictable spike in television viewing figures. There was a further audience boost in the US because Sunday's action overran into air time originally allotted for the Grammys' pre-show party.
What this extra, unexpected audience made of JB Holmes taking four minutes to weigh up his second shot to the 72nd green we can only guess but it made for torturous viewing.
Holmes' self-indulgent indecision was appalling, especially as it left playing partner Alex Noren, needing a birdie to win, to stew over his own 230-yard approach.
"Anytime today JB," former world number one Luke Donald sarcastically tweeted.
Mark Calcavecchia, the 1989 Open champion, was similarly scathing. He stated on Twitter: "1. JB needs to be fined or better yet given 2 shots 2. Needs eagle to tie. After all that lays up? Really??? 3. Horrendous sportsmanship to Noren and [Ryan] Palmer."
On a windy final day the overall pace of play was woeful. The PGA Tour has been reluctant to tackle the issue but it should become a priority for the progressive new commissioner Jay Monahan.
At least the European Tour has protocols to keep fields moving, and watching both tours over the weekend there was a discernible difference in the urgency and efficiency of play.
There are exceptions, however, and the excitement and promise of Li Haotong's victory over McIlroy in the Dubai Desert Classic should be tempered by the deliberate nature of his play. The Chinese prodigy certainly needs to speed up.
Nevertheless, his was a landmark victory full of potential. At just 22, he has propelled himself into the world's top 50 and China has a genuine male golfing superstar for the first time.
Li provides yet another dimension to what is becoming an increasingly enticing golfing year already enlivened by Woods' return from back surgery.
The American's comeback at Torrey Pines has to be considered a huge success. The 42-year-old completed 72 holes at a PGA Tour event unscathed for the first time since August 2015.
"The big concern was playing out of the rough," Woods said, after finishing 23rd at three-under in his first full-field tournament since his fourth back operation.
"I haven't played out of rye grass since last year, 12 full months. I wasn't sure what I was able to do. I hit some shots - very happy about that."
The issue was that he needed to play so many shots from the rough because of wild inaccuracy off the tee. Woods hit only 17 out of 56 fairways and the proximity of his approach shots (averaging 40 feet 10 inches) also left plenty of room for improvement.
But he ground out his scores with trademark, cussed determination and an often inspired short game. Scoring better than you play is an attribute every professional golfer craves.
"Overall, I'm very happy the way I was able to fight out the scores," Woods noted. "I can feel some of the things I'm doing wrong in my swing, so we're going to go back to work.
"It's nice to have two weeks off, but it's more important that I got this tournament under my belt where I can feel some of the things I need to work on because hometown speed versus game speed is two totally different things."
We will next see Woods at the Genesis Open in Los Angeles, starting on 15 February. He is fully aware that the Riviera Course will be a punishing set-up if he remains as inaccurate off the tee.
"Obviously, he has to drive it better," said Woods' caddie Joe LaCava. "The short game looked pretty tight, and that's always a plus. And he looks comfortable putting. He just needs to get some reps."
There are few concerns for McIlroy regarding his proficiency with driver in hand. The 28-year-old from Northern Ireland averaged 321.3 yards with the big stick in Dubai, 10 yards further than his closest rival.
But it was not enough to yield his first win since September 2016. McIlroy's failure to convert a two-stroke lead with six to play into his third Dubai Desert Classic victory will surely rankle for a while.
This was one that got away, there is no escaping that. But having watched McIlroy as he finished third in Abu Dhabi and runner-up in Dubai, there is plenty of evidence to suggest this will be a big year for him.
Aside from the technical and powerful brilliance of his game, there seems more flair, imagination and enthusiasm. He is clearly embracing the potential of this period of his career and now heads Stateside to ramp up preparations for the Masters.
Dubai victory would have been such a fillip. The last two champions at the Emirates Club, Danny Willett and Sergio Garcia, went on to land first Green Jackets the following April.
Nevertheless, McIlroy does have his mojo back and preserving it in the US over the coming weeks is vital. Let's hope he is not worn down by the glacial pace of play.