Scottish Golf 'forced to make more cuts' after members reject fee increase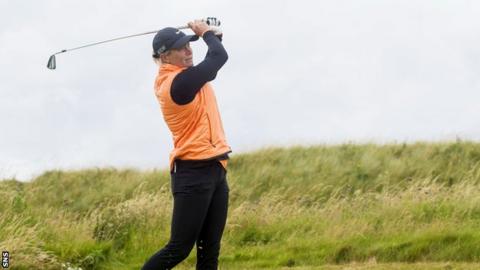 Scottish Golf chair Eleanor Cannon says the group will be forced to "make more cuts" after its membership voted against a proposal to increase their annual affiliation fee.
The governing body hoped raising the fee from £11.25 to £15 would cover a shortfall in investment.
But members rejected the proposals at Saturday's annual general meeting.
Cannon declared this "a real setback for all associated with the game in this country".
"We are deeply disappointed we will be making more cuts at a time when we should be growing the game. Not just to make clubs more sustainable, but to hand the game over to our children and their children in a much better state than we found it after 10 to 15 years of decline.
"Following the optimism that emerged from the first-ever 'Future of Golf Conference' in early December, we were hopeful of continuing our momentum, so today is a real setback for all associated with the game in this country.
"The board will now look again at the budget and our focus will remain on the future of the game in Scotland and the legacy we leave future generations.
"The culture of decision-making in Scottish golf must change and there are tough choices ahead. This has been a bruising experience for many of us, but our resolve to strengthen golf in Scotland remains unwavering."
Increasing the fee, which has stood at £11.25 for the last five years, was proposed as a strategy to plug the £350,000 shortfall in sportscotland investment.
Scottish Golf says the remaining income from the the increase was "to be invested in front-line services to help clubs become stronger and retain and grow their membership during these challenging times."
However, the proposed raise was voted against by 270 votes to 235 at the AGM in Edinburgh.
The governing boy says it expects to make "more overall cuts", having reduced its overheads by £700,000 since October 2015, and its staff roster from 48 to 32 individuals.
"It is clear golf needs to adapt to the changing demands of modern lifestyles, embrace families and dramatically change cultures and behaviours to attract new audiences, particularly the female non-golfers and the younger generation," Cannon added.
"Under the leadership of [incoming chief executive] Andrew McKinlay, we will look to make this game better and stronger, but there is no doubt that today is a disappointment for the many clubs, counties and areas who supported the change, as well as Scottish Golf's Board and the staff."