Five reasons to get excited about the Masters 2018
Last updated on .From the section Golf
BBC Sport will bring you extensive coverage of the 2018 Masters and here are five reasons why you need to pay attention.
1. Tiger's back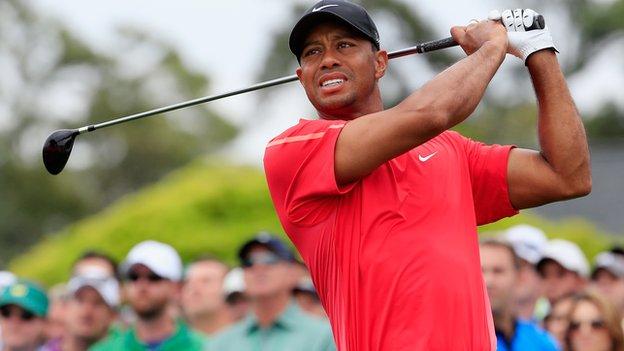 Everyone's excited. Tiger Woods. Back at Augusta.
The 14-time major winner has called himself a "walking miracle" having recovered from spinal fusion surgery last April - his fourth back operation in three years.
But does he have a genuine chance to challenge for the Green Jacket and win his first major in 10 years?
Why not?
He has finished 12th, second and fifth in his past three starts on the PGA Tour this year and has said he isn't there to just make up the numbers.
"I'm there to win. I've been better with each week I've competed. A little more crisp," he said.
"I'm just really looking forward to playing at the Masters. It's the best run tournament in the world. The golf course, the patrons, the entire atmosphere. It's a golfer's heaven."
If he does it, watch Twitter melt...
2. The scenery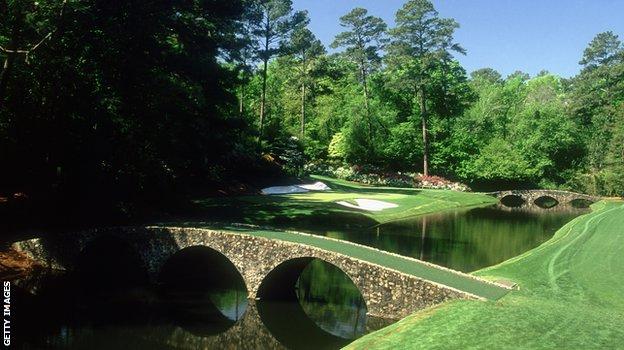 As Tiger says, "it's a golfer's heaven".
But if you've never played the game or consider it slightly monotonous, Augusta National Golf Club still looks like a dreamy place to spend an afternoon.
Don't worry if you can't be there in person, you will feel just as "at one with nature" watching on the BBC.
Perfectly manicured greens, stunningly colourful flowerbeds, blue skies - it's like a National Trust property without the drizzle.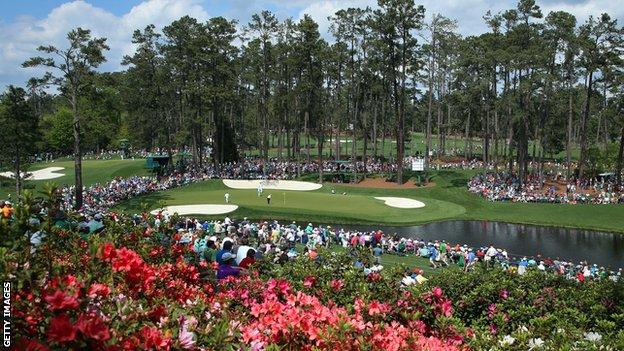 Aesthetics are everything at the Masters. Caddies wear the same all-white jumpsuits with their respective golfer's name on the back and the iconic sunshine-yellow pin flags stand out on the lush green backdrop.
It's the only major that is consistently played at the same course and, therefore, traditions are paramount.
Running is banned so watch out for spectators power walking between holes to get the best view.
It's not a booze-free zone but spectators tend to be on their best behaviour - none of that "GET IN THE HOLE!" nonsense.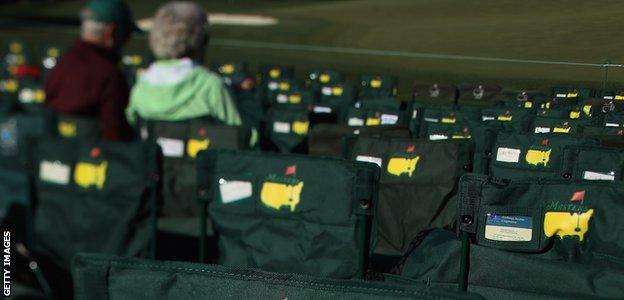 There's also the unwritten rule - if someone has left their chair in a prime viewing spot, under no circumstances do you touch it. You just don't.
We also have it on good authority the food and drinks at the concessions stands are very reasonably priced. You may have eat beans on toast every day for a year to pay for your entry ticket but at least the beer's cheap.
3. Rory's possible 'grand slam'
The Masters is the final puzzle piece Rory McIlroy needs to complete the 'grand slam' of all four majors - could this be his year?
Maybe.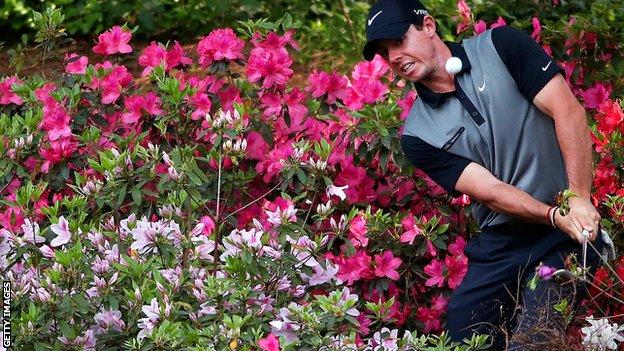 However, the former world number one probably doesn't have the greatest memories of Augusta.
Four top-10 finishes in the past four years, and what can only be described as a total disintegration of his game in 2011 where he went from leading the field to finish 15th in the space of six holes.
But McIlroy's recent form suggests he has the potential to pip Woods to the 2018 Green Jacket.
He topped the pile at the Arnold Palmer Invitational last month and came a close second at the Dubai Desert Classic in January.
But the pressure of a major can affect people in many different ways. Rory will be hoping the Augusta demons don't come back to haunt him.
4. The wide open field...
So who else is a contender?
Can Sergio Garcia go for back-to-back victories?
A year ago, the Spaniard made a vital par at the 13th to keep his bid for his first major alive.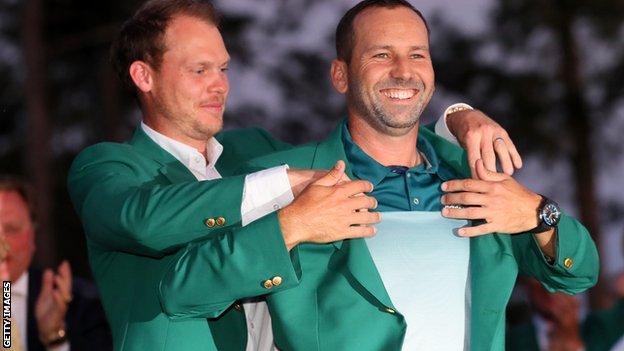 Now he is hoping to repeat the feat with a new mascot in tow - his three-week-old daughter, Azalea - named after that very hole where his march to victory began.
British Olympic champion Justin Rose was the man Garcia beat in the play-off last year but he says he is ready for it this year.
"Game-wise I'm where I want to be," he told reporters at the Houston Open.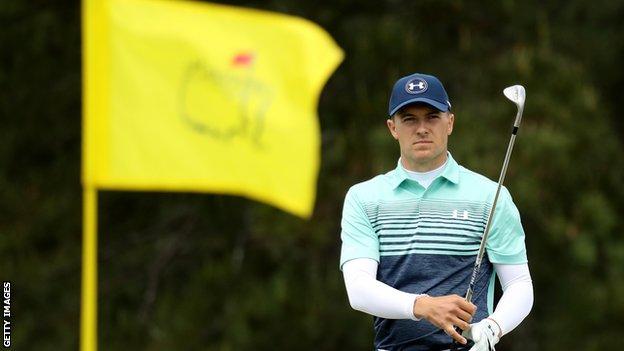 "I guess it's getting comfortable with the feeling of knowing that I'm going in there (to the Masters) as one of the favourites and it's my time really to do it."
To be frank, the list of "contenders" for this title is vast, with Dustin Johnson, Jordan Spieth, Justin Thomas, Jon Rahm and Phil Mickelson all recording wins in 2018.
Will Bubba Watson join the elite club and become a three-time Masters champion?
It looks unlikely but he will be wearing these snazzy shoes in the par-three contest.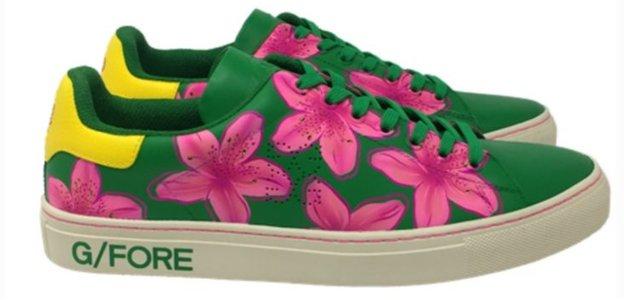 Speaking of which....
5. The par-three contest
This is just a bit of fun really... or is it?
On the Wednesday before the Masters begins, players take part in this "part competition, part stress relief" nine-hole event.
Family members and friends (sometimes kids, sometimes partners, sometimes members of One Direction) adorn the famous white jumpsuit as caddies, but they have been known to hit a ball or two.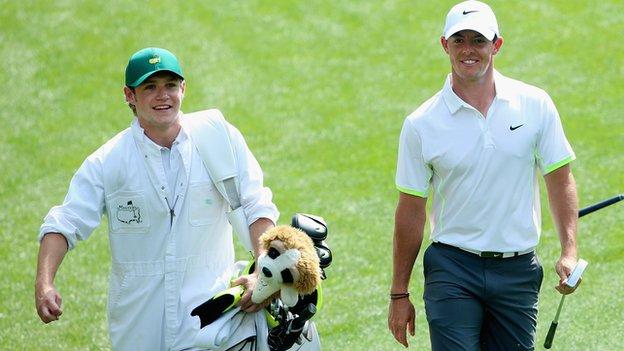 No-one takes it that seriously and for good reason - nobody wants to win.
No player who has won the par-three contest goes onto win the Masters in the same year.
Beware the "Par-3 Curse".
"I'm sold. When can I watch it?"
BBC Two will have live and uninterrupted coverage of the third and final rounds from Augusta National Golf Club, starting at 19:30 BST on Saturday, 7 April, and 18:30 on Sunday, 8 April.
There will also be highlights of the first two rounds - day one on BBC Two on Friday, 6 April, at 17:45 and day two on Saturday at 13:15 on BBC One.
BBC Radio 5 live will bring live coverage of all four days.
Online, Connected TV and Red Button: The television coverage will be streamed and on Saturday and Sunday, connected TV and the BBC Sport website and app viewers have four extra streams to choose from, including live coverage of Amen Corner, holes 15 and 16, and a featured group. A mix of the best will also be available on the Red Button.
Saturday and Sunday extra coverage:
Masters on the Range: 1600-1800 each day

Featured Group: 1515-0015 each day

Amen Corner: 1645-2300 each day

Holes 15 & 16: Live 1730-2330 each day

Red Button coverage (best content at the time of four streams) - 1730-0000.
The BBC Sport website will have extensive coverage all four days in the form of live pages integrating television, radio commentary, latest scores, news, the best of social media and video.