Masters: Tiger Woods, Rory McIlroy, Justin Rose tee times announced
Last updated on .From the section Golf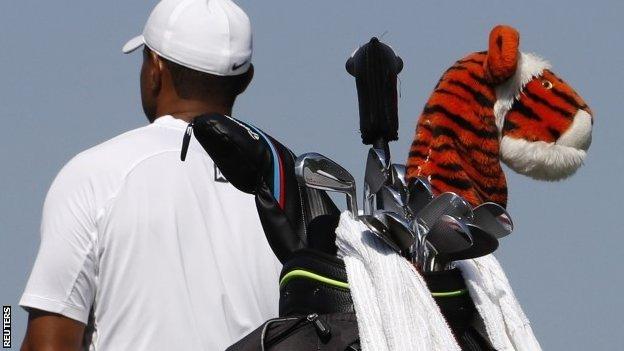 2018 Masters
Venue:
Augusta National
Dates:
5-8 April
Coverage:
Watch highlights of the first two days before live coverage of the weekend's action on BBC Two and up to four live streams online. Listen on BBC Radio 5 live and BBC Radio 5 live sports extra. Live text commentary, analysis and social media on the BBC Sport website and the sport app.
Full details
Four-time winner Tiger Woods will be among the early starters when the Masters at Augusta begins on Thursday.
The American, who has missed the past two Masters with a back injury, tees off with England's Tommy Fleetwood and Australian Marc Leishman at 15:42 BST.
Defending champion Sergio Garcia of Spain is in the next group at 15:53.
England's Justin Rose is last out at 19:00, with Phil Mickelson, Rory McIlroy and Jordan Spieth headlining the three groups immediately before.
Rose, who was beaten by Garcia in a play-off to decide last year's winner, plays alongside world number one Dustin Johnson, who pulled out of last year's Masters after falling down the stairs on the eve of the tournament.
Garcia will play with world number two Justin Thomas, who also won his first major last year - the PGA Championship - and US amateur champion Doc Redman.
Two-time Masters winner Bubba Watson is in the following group at 16:04, playing with Sweden's Henrik Stenson and Australian Jason Day.
Round one tee-times - Thursday, 5 April
12:45 BST: Gary Player (SA), Jack Nicklaus (US) - honorary starters
13:30: A Cook (US), T Potter Jr. (U), W Bryan (US)
13:41: I Woosnam (Wal), R Moore (US), J Vegas (Ven)
13:52: M Weir (Can), B Steele (US) M Parziale (US)*
14:03: JM Olazabal (Spa), K Chappell (US), D Frittelli (SA)
14:14: B DeChambeau (US), B Wiesberger (Aut), M Fitzpatrick (Eng)
14:25: M O'Meara (US), B Harman (US), H Ellis (Eng)*
14:36: V Singh (Fij), S Kodaira (Jpn), D Berger (US)
14:47: K Aphibarnrat (Tha), P Perez (US), F Molinari (Ita)
14:58: D Willett (Eng), K Stanley (US), J Dufner (US)
15:09: H Matsuyama (Jpn), P Kizzire (US), P Casey (Eng)
15:31: Z Johnson (US), M Kaymer (Ger), B Grace (SA)
15:42: T Woods (US), M Leishman (Aus), T Fleetwood (Eng)
15:53: S Garcia (Spa), J Thomas (US), D Redman (US)*
16:04: B Watson (US), H Stenson (Swe), J Day (Aus)
16:15: P Reed (US), C Hoffman (US), A Hadwin (Can)
16:26: B Horschel (US), C Reavie (US), C Smith (Aus)
16:37: S Lyle (Sco), K Si-woo (Kor), D Ghim (US)*
16:48: T Immelman (SA), I Poulter (Eng), P Cantlay (US)
16:59: A Cabrera (Arg), R Fisher (Eng), J Walker (US)
17:10: F Couples (US), Li Hao Tong (Chn), J Niemann (Chi)*
17:32: L Mize (US), R Henley (US), S Sharma (Ind)
17:43: B Langer (Ger), T Finau (US), Y Ikeda (Jpn)
17:54: C Schwartzel (SA), W Simpson (US), Lin Yuxin (Chn)*
18:05: K Kisner (US), T Pieters (Bel), X Schauffele (US)
18:16: G Woodland (US), Y Miyazato (Jpn), T Hatton (Eng)
18:27: P Mickelson (US), R Fowler (US), M Kuchar (US)
18:38: A Scott (Aus), R McIlroy (NI), J Rahm (Spa)
18:49: J Spieth (US), A Noren (Swe), L Oosthuizen (SA)
19:00: J Rose (Eng), D Johnson (US), R Cabrera-Bello (Spa)
Round two tee-times, Friday 6 April:
13:30: B Horschel (US), C Reavie (US), C Smith (Aus)
13:41: S Lyle (Sco), K Si-woo (Kor), D Ghim (US)*
13:52: T Immelman (SA), I Poulter (Eng), P Cantlay (US)
14:03: A Cabrera (Arg), R Fisher (Eng), J Walker (US)
14:14: F Couples (US), Li Hao Tong (Chn), J Niemann (Chi)*
14:25: L Mize (US), R Henley (US), S Sharma (Ind)
14:36: B Langer (Ger), T Finau (US), Y Ikeda (Jpn)
14:47: C Schwartzel (SA), W Simpson (US), Lin Yuxin (Chn)*
14:58: K Kisner (US), T Pieters (Bel), X Schauffele (US)
15:09: G Woodland (US), Y Miyazato (Jpn), T Hatton (Eng)
15:31: P Mickelson (US), R Fowler (US), M Kuchar (US)
15:42: A Scott (Aus), R McIlroy (NI), J Rahm (Spa)
15:53: J Spieth (US), A Noren (Swe), L Oosthuizen (SA)
16:04: J Rose (Eng), D Johnson (US), R Cabrera-Bello (Spa)
16:15: A Cook (US), T Potter Jr. (U), W Bryan (US)
16:26: I Woosnam (Wal), R Moore (US), J Vegas (Ven)
16:37: M Weir (Can), B Steele (US) M Parziale (US)*
16:48: JM Olazabal (Spa), K Chappell (US), D Frittelli (SA)
16:59: B DeChambeau (US), B Wiesberger (Aut), M Fitzpatrick (Eng)
17:10: M O'Meara (US), B Harman (US), H Ellis (Eng)*
17:32: V Singh (Fij), S Kodaira (Jpn), D Berger (US)
17:43: K Aphibarnrat (Tha), P Perez (US), F Molinari (Ita)
17:54: D Willett (Eng), K Stanley (US), J Dufner (US)
18:05: H Matsuyama (Jpn), P Kizzire (US), P Casey (Eng)
18:16: Z Johnson (US), M Kaymer (Ger), B Grace (SA)
18:27: T Woods (US), M Leishman (Aus), T Fleetwood (Eng)
18:38: S Garcia (Spa), J Thomas (US), D Redman (US)*
18:49: B Watson (US), H Stenson (Swe), J Day (Aus)
19:00: P Reed (US), C Hoffman (US), A Hadwin (Can)
* - denotes amateur