Bradley Neil: Scottish golfer targets place at European Tour finale in Dubai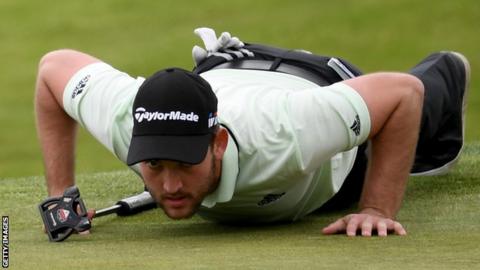 Scottish golfer Bradley Neil has set his sights on earning a place at the European Tour finale in Dubai later this year.
Only the top 60 players qualify for the end-of-season event, which is based on earnings throughout the season.
The 22-year-old from Blairgowrie has made five cuts in 11 events so far in his debut season.
"It would be very silly not to try and target that top 60; there's a long way to go still," Neil told BBC Scotland.
"A lot of people touch on the fact it would be good just to keep my card but I always think if I aim higher, then you can just settle for a bit below that.
"If I aim just to keep my card then I might fall short. My goal is to try and win an event and be in that top 60. But if it's top-70 or 80 then fair enough and move on to next year."
Neil earned his European Tour card by finishing among the top 15 players on last year's European Challenge Tour.
This season he has earned £20,838 in winnings and currently stands 214th in the Race to Dubai standings.
He has made the cut at the Hong Kong Open, South Africa Open, the World Super 6 event in Perth, the Oman Open and most recently the Spanish Open last month, where he finished tied for 58th.
His best finish so far is a tie for 51st at the South Africa Open.
Last year almost £400,000 was required to retain a Tour card - a target for Neil as he bids to avoid a return to the perils of Tour school.
'If I can kick on you never know what could happen'
"There is definitely lots of room for improvement," he said. "If there was 11 cuts made I would be a lot happier than I am.
"But in those five cuts I have made, I have not taken advantage of the positions I have been in. I have always dropped places over the weekend and finished around the 50th position mark.
"I have been going into the weekends in the top 20 positions and if I can just kick on then you never know what could happen. It's been very frustrating but I think I am now getting used to it again.
"I like to think I am comfortable again. I know the standard of golf and I know that I am more than capable of competing with these guys out there if I turn up with my best golf on the day."
Neil made his breakthrough into professional golf after a sterling amateur career that culminated in him becoming the British amateur champion in 2014, which secured him a place at the Masters at Augusta and the Open Championship at St Andrews.
It proved to be a difficult introduction for the then 19-year-old but he insists he has no regrets about turning professional so young.
"My dad brought me up with the motto, 'if you are good enough, you are old enough'" Neil explained.
"I had won the biggest amateur competition and was getting to play in the best competitions in the professional game. I thought if I played well enough, I don't see why my age should matter."
Neil's next tournament will be in Sicily next week and joining him will be fellow Scottish rookie Connor Syme, also 22, from Kirkcaldy.
The pair came through the amateur ranks together and Neil says they can spur each other on when away at events.
"I have known Connor since I was 13 so it's incredible that both of us have come such a long way," he added.
"For me, and hopefully for him, it's had a positive impact. We travel together, we share hotel rooms together, we practise together.
"We are both at a high level of golf and both feeding off each other. Even last night we were at the same gym together.
"I'm delighted if he does well. He is delighted if I do well. We just feed off each other and have a good time."