Equality in sport: Female golfer Lowri Roberts says policy at Cottrell Park is discriminatory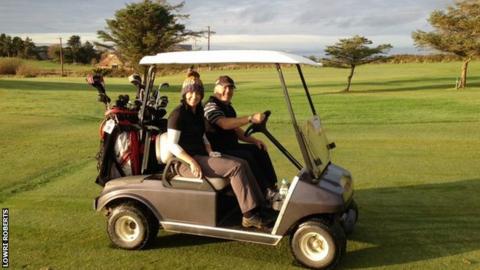 A woman is considering legal action because she claims her golf club is discriminating against her on gender grounds.
Lowri Roberts says women are no longer allowed to play in prime Saturday morning slots at Cottrell Park Golf Resort, Cardiff.
"I was told there are plenty of grounds through the Equalities Act if I wanted to do something about it," said Roberts, who has long campaigned for women's rights at the Welsh club.
The case threatens to reopen issues of gender discrimination in golf, a sport that has been beset by such controversies.
"We are in the minority and because of that we need a leg-up and we need to be able to go in those men's slots," Roberts, 37, told BBC Sport. "But they are unwilling to see that and they don't care."
Cottrell Park Members' Association (CPMA) chairman Andy Mogridge insists his organisation is not discriminating against women.
What happened?
A vote by members at Cottrell Park Golf Resort on Tuesday effectively overturned a club by-law that allowed women members to play in times reserved for men's competitions.
The membership at the club near Cardiff, is run by the CPMA, which called Tuesday's extraordinary general meeting.
A motion to allow women to play in men's times and vice versa failed to achieve the required majority by a single vote.
This effectively overturned a 1998 club by-law which had been reintroduced by the club's owners in March. The ruling gave Roberts the same access to tee times as her male counterparts.
"It was working well," said Roberts, a civil servant.
"It was great, it didn't affect anyone and we were getting there, but when they called this meeting around the Easter holidays I just thought 'what are they up to now? Why can't they let it be?'"
Roberts, who works full time and pays the same fees as male members, began her campaign more than a year ago. She was unable to play in the prime Saturday morning slots because they were reserved for the men's section.
As a woman she would have to play on the alternative course among visitors and societies, which she describes as "an environment not conducive to competitive golf".
The 18-handicapper believes this arrangement was discriminatory because she did not have the same level of choice as male members.
"I've just been hit with barriers and barriers, and doors have been closed in my face from every direction," she added.
Roberts has campaigned through social media, sought legal advice, and contacted her local MP, the Parliamentary Golf Group and Wales Golf.
It was under questioning from BBC Sport last March that David Johns-Powell from the resort's parent company revealed the existence of the 1998 by-law and stated that it remained in place.
Despite her campaigning, Roberts had never up to that point been informed of the by-law's existence. She and any other full playing female members were quickly given the right to take prime tee times on Saturdays alongside the men between 07:30 and 11:30.
What do the members say?
The members' association believed this move by the owners was contrary to the men's rules.
"The CPMA have had a good look at the constitution and the current rules and there are no exemptions to allow lady members to play within the men's competition tee slots," said Mogridge. "That's the reason the EGM was called.
"There are a number of iterations of the men's rules that clearly state that the current version supersedes any other written or verbal agreements. So the concession was not valid."
Two propositions were then drawn up for this week's EGM. One called for all competitions to be gender neutral, which was comprehensively outvoted.
The other allowed men and women to play in each other's dedicated slots - women have reserved tee times on a Thursday. This motion attracted 38 votes in favour, 20 against and one abstention.
It failed by the narrowest of margins to achieve the required two thirds majority. Had it been a standard annual general meeting, a simple majority would have been enough.
Mogridge says the CPMA could not wait for next year's AGM, adding: "We were contradicting the rules."
"I'm not an expert on discrimination," said Mogridge. "In my simplistic view, I don't believe it is discriminatory. I've seen it as a rule that has been broken and then needed to be put to the membership."
He added: "Lowri is a member of Cottrell Park, golf is available to all members on the weekend. I'm no expert but to me that is not discriminatory."
Wales Golf, which is funded by clubs such as Cottrell Park, refused to criticise the outcome of the vote but in a statement to BBC Sport said: "We would like to make clear the commitment of Wales Golf to equality in the sport.
"Golf is unique, thanks to the handicap system, in that all ages, abilities and sexes can compete against each other.
"We want to encourage all opportunities for people to play golf, and promoting the sport to women and girls has been a particular focus for us. We have just appointed a new Women and Girls' Golf officer, a post funded by the R&A [Royal and Ancient, golf's governing body]."
'Not right in this day and age'
Roberts says she is "frustrated" by the latest developments and is considering her options.
"We've gone back to square one - well, worse because we are back to where they were before 1998," she said. "I'd like to give the owner the chance to see if he will do something about it."
She is also considering going through the courts and has sought legal advice.
"I feel none of us want to hear bad stories about golf because we love the game," added Roberts. "However if this kind of behaviour is being allowed in clubs up and down the country, however big or small those clubs are, someone needs to do something about it.
"This is what I told a man at the meeting: 'I'm finding it very difficult to do what you can take for granted, simply for being born a girl. That can't be right in this day and age.'
"Yes there are opportunities to play there for women on a Saturday but it is much more difficult for me to do it because of the conditions - playing among all the visitors and the lack of full-time lady members."