Players Championship: Fitzpatrick 'just can't afford to miss the greens'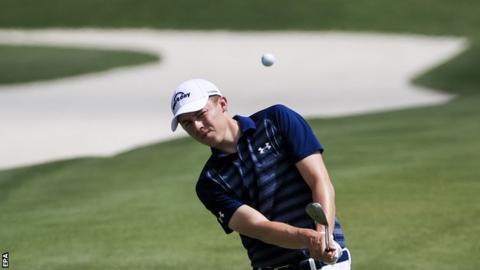 Matthew Fitzpatrick is a four-time winner on the European Tour and this week competes in the prestigious Players Championship at Sawgrass in Florida. The 24-year-old from Sheffield is sharing his player's diary with BBC Sport.
This week there is always loads of attention on the par-three island green 17th. From the outside looking in, people think it is not too bad while others will think it looks really hard.
For pros it is the same thing. You get on the tee and the green just shrinks, it's windy and you could be hitting between a wedge and a six iron.
Rather than dreading the hole, I look forward to it, mainly because there's always a big crowd around there and it's always fun playing in front of a lot of people. You just try to do your best, hit the middle of the green and take pars all week.
My schedule gets pretty crazy now so it was important to give myself a bit of a break before this week. I'm just looking forward to playing again now.
This is always a great week and the golf course is so tough you have to play well. I live out here in Florida now, at North Palm Beach, and in the first week off I played a bit with my family, who were still out here.
Then it was a case of serious practice and plenty of training in the gym. The weather is perfect, sunny and warm although it does get quite windy, which I'd say is the only downside.
It always used to be windy when I practiced at Hallamshire in South Yorkshire, but it's about 20 degrees warmer here.
I obviously miss being able to hang out with friends and family. Now it's just me and my girlfriend and we don't know too many people but I'm enjoying it so far. If I'm honest, I'll see how this year goes. I'm only renting so things might change next year.
Sawgrass is a really tough golf course and I can see that already. I've only played 12 or 13 holes in practice and the greens are really firm already.
Chips from around the green, even if you get lots of spin, they're not stopping because it's just so firm. You just can't afford to miss the greens and you have to play really, really good golf.
Whoever wins will have either the world's best short game or be brilliant from tee to green.
I've been working a lot on my iron play, those shots into the greens. Swing wise, it's been a bit of a struggle so far this year. The driver has been great, the putter is solid and the short game has been average, but my bad shots have been from being let down with my irons.
That's what I've been trying to work on in the break, but off the course I've just bought a new games console so I've been playing a lot of Fifa on that. I'm probably a little bit addicted to it.
I grew up playing it and Ted Brady, my manager, loves to play it. We tend to end up playing against each other quite a bit. It's nice because you start to think about that world rather than what you are doing on the golf course, which is a great thing really. It's what you need at times.
Of course my Fifa team has the red and white stripes of my beloved Sheffield United. I've been following them all year and I see there's a bit of talk about the future of our manager Chris Wilder. I think 100% of United fans would want him to stay.
More immediately, I have to set my sights on a big week at Sawgrass. The key elements are being good tee to green. You have to drive it well, you can't afford to be in the rough here because it is very unpredictable.
You can get fliers and some that come out dead. And you have to hit your irons in the right spots because the greens are so firm and fast. If you are in the wrong place you don't have a shot.