Unifying PGA and European Tours 'to be aspired to' but complicated and controversial

By Iain Carter
BBC golf correspondent
Last updated on .From the section Golf85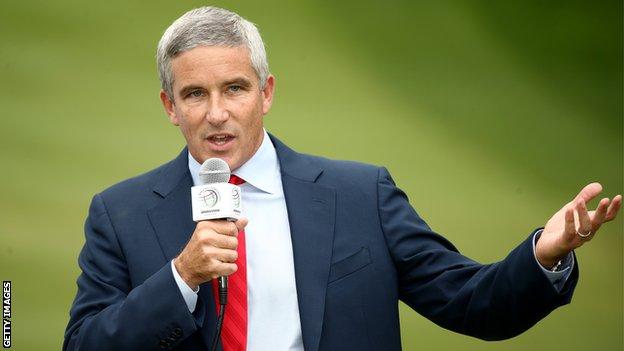 As many of Europe's elite golfers arrive at Wentworth, the boss of the lucrative PGA Tour in the US is suggesting a unified world tour is what the game should be "aspiring to".
Speaking to BBC Sport, Jay Monahan, who took over as commissioner of the American circuit last year, believes the game is in "a pretty remarkable time" and that a coming together of rival tours is "a possibility".
And the European Tour's £5.2m BMW PGA Championship, which starts on Thursday, illustrates the need for a more coordinated calendar.
It boasts a strong field but Europe's two highest ranked players - Jon Rahm and Justin Rose - are teeing it up in Texas instead. Rose is absent through no fault of his own and will miss Wentworth as much it misses him.
As a junior he was a regular among the West Course crowds and it is an event that means more than most to him.
But PGA Tour rules require their members to compete in an event they have not played over the past four years and, given the pressures of his global schedule, Rose had no viable option other than to put this week's Fort Worth Invitational on his schedule.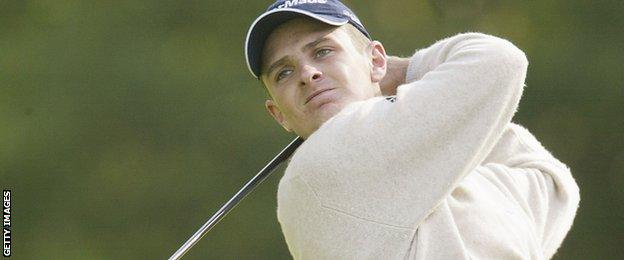 From the US standpoint, it is a sensible regulation. It means players cannot get too set in their ways and sponsors at slightly lesser events have more chance of attracting marquee names.
So Fort Worth gets the Olympic champion as well as Spain's world number four Rahm, when global logic suggests these players should be thrilling European fans instead.
Of course, it is an inescapable fact that the PGA Tour calls the shots and other circuits have to bend and adapt accordingly. And this makes Monahan's views on a potential unified global tour all the more fascinating.
The commissioner insists he fully respects the European Tour and its chief executive Keith Pelley. "They are partners, we work very closely with Keith and his team," Monahan said.
"They are also competitors because we are both trying to do the same thing, which is create great championships and maximise playing opportunities for our members."
So would that prove easier if the tours were to combine?
"Potentially - it depends on how that would come together," Monahan told me. "I certainly think it is something that everybody who is involved in the game should be aspiring to.
"If you look at what's in the best interests of the fan, best interests of the players, you could make the case for one global tour."
Monahan accepts any such move would be extremely complicated and is not imminent, but suggested the current climate offered an opportunity.
He cites the number of young and established stars in the game and the fact that golf has just returned to the Olympics, with governments across the world investing in it.
"There's a lot of opportunity that creates," Monahan said.
And he sees a coming together as a genuine option. "That is a possibility, absolutely," he said. "Is it going to happen? Only time will tell but we are not going to avoid that conversation - so answering your question, yeah, it's out there."
Monahan's opposite number, Pelley, has already acknowledged the prospect of some kind of merger. "Does it make sense to look at it at some point down the road? Perhaps," he said at the end of last year.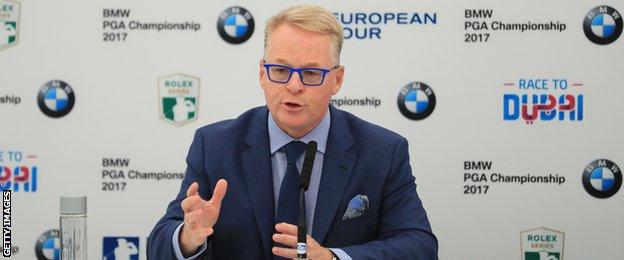 "If, in fact, it is something that all our players want us to investigate, we would have a fiduciary responsibility to look at it. Would we have conversations with all the other tours? Absolutely. Sure."
At face value, the vision for a Formula 1 style global circuit featuring the world's best players competing for massive prize funds at courses close to the planet's most glamorous cities is hard to resist.
But for rank and file European Tour members there is less enthusiasm for a World Tour. "I haven't heard much, but I think it is an inevitability, unfortunately," England's world number 100 Eddie Pepperell told The Cut, BBC Golf podcast.
"I personally don't love the idea of it. I think golf's done a great job over the last couple of decades of making sure 300 guys who play the game at the very top earn a very good living.
"You can't say that about any other individual sport," he added.
Last year each of the top 80 players on the European Tour earned at least £500,000 in prize money.
"It's always better to have more people earning more money than less people earning even more, and that is what is going to happen if we have a world tour," Pepperell said.
"I think the European Tour should try as hard as it can to exist on its own two feet. Whether it can or not is a different question."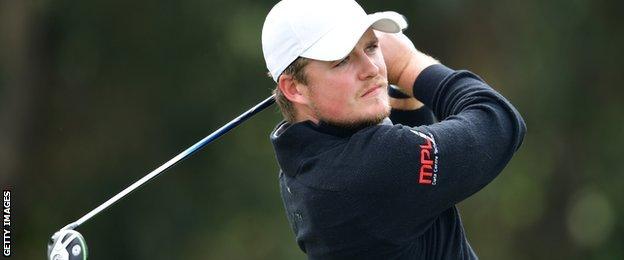 Certainly, this week the Tour will exude a big time feel. Huge crowds are expected as Rory McIlroy heads a fine field competing on a vastly improved West Course.
The luxuriously revamped Wentworth clubhouse provides an opulent backdrop while musically Rudimental and Simple Minds provide the weekend after-round entertainment.
But the reality is a landscape evolving rapidly and it will take more than the addition of music to make the most of these changing times.
From that point of view, the European Tour has made an inspired signing with Guy Kinnings newly appointed as Pelley's number two.
Before his move he had global responsibility for golf with sports management and sponsorship giants IMG and there are few more respected figures in the golf business.
With Monahan acknowledging that talk of a world tour is "out there", Kinnings is joining the European Tour at a pivotal moment.