Ryder Cup: Europe's Lee Westwood, Padraig Harrington, Graeme McDowell & Luke Donald named vice-captains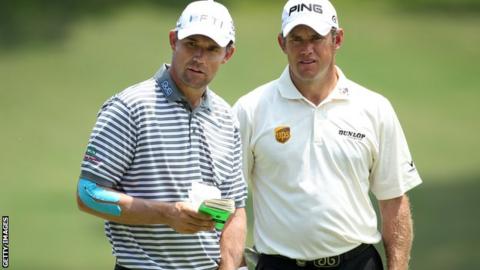 Europe captain Thomas Bjorn has picked Lee Westwood, Graeme McDowell, Padraig Harrington and Luke Donald as vice-captains for this year's Ryder Cup.
Westwood is a seven-time winner as a player in the contest against the US.
Harrington has been a vice-captain twice, while McDowell, who claimed the winning point in 2010, and Donald will be performing the role for the first time.
This year's event takes place at Paris' Le Golf National from 28 September.
Europe will aim to regain the trophy after being defeated by the US in Hazeltine, Minnesota, two years ago.
The quartet could still qualify to play in the biennial tournament, but Westwood (117th) is the only player currently ranked inside the world's top 200.
Westwood and Harrington have previously expressed an interest in the captaincy and could be rivals to succeed Bjorn and lead Europe in the 2020 contest at Whistling Straits in the US.
Bjorn, who has already selected Sweden's Robert Karlsson as a vice-captain, said: "All five are widely respected throughout the game, are all current players who are well known to the players who will be in our team come September and they also all possess a knowledge of what to expect from the course at Le Golf National.
"You only need to look at the record books to see that their Ryder Cup pedigree speaks for itself. Each of them has played both home and away so they are well versed in the contest and know how to handle the special and unique atmosphere."
He added that his selections have "strong personalities" and "forthright opinions" which can "only help" Europe's hopes of winning the trophy.
And he added: "In my time, no-one epitomises the Ryder Cup like Lee Westwood."
Bjorn 'not thinking' about American strength
Bjorn's opposite number, US captain Jim Furyk, has named Davis Love, Tiger Woods and Steve Stricker as assistants, although Woods has said he wants to play on the team as well.
The US also boasts formidable playing talent - all four of golf's men's majors are currently in the hands of American players.
"I don't really think about the Americans that much," Bjorn told BBC Radio 5 live's The Cut podcast.
"I've not been involved in a Ryder Cup where the captain hasn't been thoughtful about what he was going to do and they haven't had a strong team and haven't had a strong backroom team - they've always had that.
"We know what we're up against, we won't run away from it, that's what we've got to face. We can't control what the Americans do but we will go and do everything that we can to create that environment where our players can play their best."