Scott Jamieson backs fellow Scots Liam Johnston and Grant Forrest for European Tour

By Brian McLauchlin
BBC Scotland
Last updated on .From the section Golf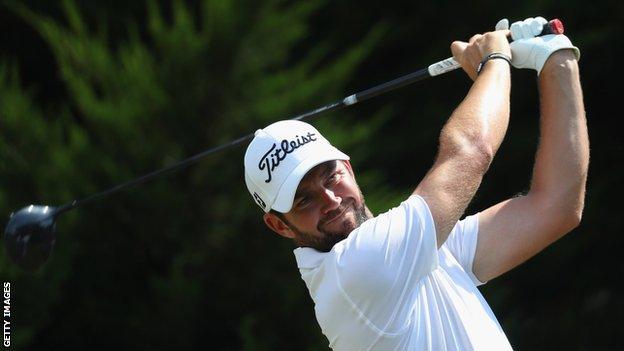 Scott Jamieson believes Scottish compatriots Liam Johnston and Grant Forrest are ready to make their way on to the main European Tour.
Dumfries golfer Johnston defeated East Lothian's Forrest in the final of the Andalucia matchplay Challenge Tour event in Malaga over the weekend.
And three other young Scots made it through to the last 64 on the Costa del Sol.
"It seems as though there are some guys coming through now," said Jamieson, 34.
"You have Grant Forrest, Euan Ferguson, Bob McIntyre and obviously Liam winning. And there are a few more as well.
"The next generation is coming. It just took five or six years longer than a few of us thought. But that's fine. I've always maintained that statistically speaking I reckon the Scots still did pretty well percentage wise out here.
"If you take the ratio of the country's population to golfers on tour we have never been short."
Glasgow's Jamieson says having a role model figure to look up to the likes of Rory McIlroy would give the game in Scotland a huge boost and give younger players someone to try and emulate.
"That always helps," said Jamieson. "If you have somebody week in, week out up there and give the youngsters in Scotland somebody to idolise. We are all trying to be that guy."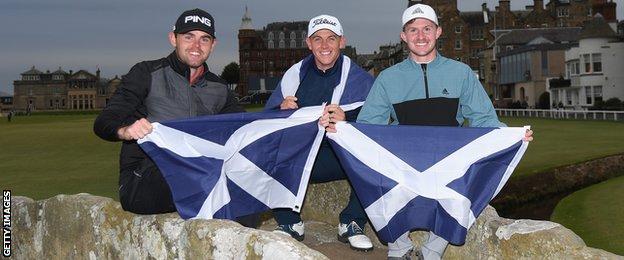 Jamieson is one of eight Scots taking part in the PGA Championship at Wentworth this week, with McIlroy and last season's European Tour number one Tommy Fleetwood included in a strong field.
"This is our flagship event," Jamieson said. "I feel it always marks the start of the summer when our season gets into the nitty gritty. Because of these Rolex events you feel like from now to July it can define your season.
"I have been playing well but I have just not really had any big results. I feel that every part of my game is good just now. I just have to be patient and wait for it to happen."
Jamieson, who has three professional wins, is now based in Florida and commutes across the Atlantic.
He says the travel so far has been no problem and does not think it will have a detrimental effect on his game.
"This is really the first week it's a little bit different," he added.
"Arriving here with a bit of jet lag when we normally wouldn't. Up until now you are getting jet lag wherever you go.
"This is the start of the summer where things are a little different. I arrived here Monday morning and I'm sure by Thursday I will be pretty fresh. I will be doing the next two events then home for three weeks [to Florida] and then come back for four after that."