PGA Championship: Gavin Hay thrilled to make European Tour debut at Wentworth

By Brian McLauchlin
BBC Scotland at the PGA Championship
Last updated on .From the section Golf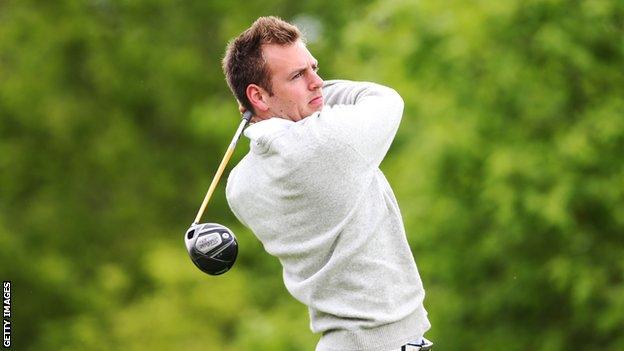 Gavin Hay will make his European Tour debut at the prestigious PGA Championship at Wentworth.
And the 26-year-old Scot was lucky enough to get some practice with defending champion Alex Noren.
Hay, from Nairn, was joined by the Swede on Sunday and enjoyed the experience as he prepares to test himself against some of the biggest names in the sport.
"I was walking towards the 11th green and I said to my caddie I think that is Alex Noren out there," Hay told BBC Scotland.
"And then he came over and asked if it was okay if he joined me for the last seven holes. I definitely wasn't going to turn that down.
"Playing with him was good. You always look at parts of his game and compare it to your game and say that's what I need to improve on.
"It's good to evaluate that way and you know where to work on when you go home."
Hay, the world number 1995, qualified for the European Tour's flagship event as one of the top four players through regional finals held last year.
'If I made the cut I would be delighted'
"I know I'm not expected to do things," said the Mearns Castle golfer, who has only ever played one event on the second tier Challenger Tour.
"It's a tough course but if I play well and play the kind of golf I know I am capable of you never know. Realistically, if I made the cut I would be delighted."
Hay works as a teaching pro and says he began to focus on coaching after a spell at college in America.
"I always enjoyed the teaching part of golf so I decided to become a pro and combine teaching with some shop hours," he said.
However, Hay, who will partner Nino Bertasio of Italy and Thailand's Phachara Khongwatmai on Thursday and Friday, still has aspirations of mixing it with the elite on a week-to-week basis.
"It would be great," he said. "Everyone aspires to be at the top level of the game.
"They are playing at a very high level, they hit it a very long way and everyone here will have all the aspects of their game at a peak."
Hay is being supported this week by his coach Murray Urquhart while he also has a fair following who have made the long trip to Surrey from the Highlands.
"My family are coming down which is good," he explained. "My mum and dad along, with my two brothers and some of their friends, so it will be nice to have some backing out on the course."