Dealing with jitters on the first tee - three European Tour pros have their say

By Kenny Crawford
BBC Sport Scotland in Brescia
Last updated on .From the section Golf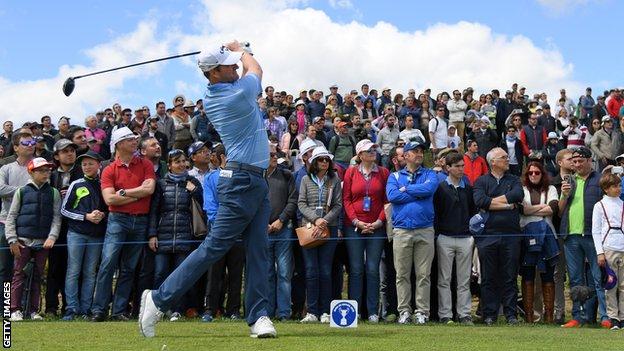 Picture the scene. Or perhaps remember it.
You, the amateur golfer, are standing on the first tee ready to begin your Saturday medal.
Not only are there more people than you would like watching from the clubhouse window, but the next couple of groups have trundled round as well.
All of a sudden there's an audience in the region of 10-15 people and the pressure is on you to make a composed and impressive start, for the sake of your scorecard and your pride.
First tee nerves can be a horrible thing. You know what you want to do, but theory is too rarely followed by reality.
The professionals have every sympathy with you.
"Everybody gets them," Marc Warren, a three-time European Tour winner, told BBC Scotland.
"First tee nerves are kind of weird, because it's your first shot of the day and you just want to get off to a nice start.
"But nerves are a good thing. If you're not nervous then you've either had a high score, or you're out far too early.
"You've heard Tiger Woods talk about how he gets them and he welcomes it."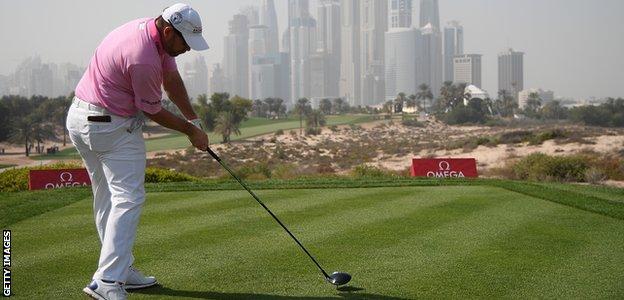 Embracing those first tee jitters is something the 2014 European Ryder Cup player Stephen Gallacher echoes.
He reckons they should not be feared, but controlled.
"It's like no other," said the 2013 and 2014 Dubai Desert Classic winner.
"You are nervous but I think it's a great sign, it means you're ready to perform.
"You've got to have a really robust routine. We practice it and we time it. You pick your target and hit it, but it's all about the routine."
Aberdonian Richie Ramsay believing that having a process is "key" to giving yourself a solid base to your round.
"Stick with a routine and just trust it," the 2015 Trophee Hassan II winner told BBC Scotland.
"A lot of the time on the range I try to recreate the shot I'm going to try to hit on the first tee - get a good couple of those away on the range.
"Then I just think that if I can do it on the range, then I can do it on the first tee. Just have confidence in yourself and if you swing confidently that's half the battle.
"Focus on your routine, focus on the process, pick as small a target as you can and commit to it. Simple, very simple!"
If only.
Marc Warren, Stephen Gallacher and Richie Ramsay are three of seven Scots playing at the European Tour's Italian Open near Lake Garda this week, along with David Drysdale, Scott Jamieson, Bradley Neil and Connor Syme.