US Open: Brooks Koepka is real deal and Tommy Fleetwood emphasises his credentials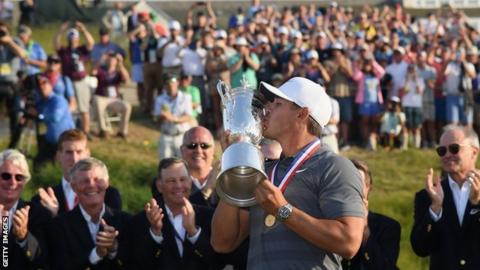 Brooks Koepka's triumph at Shinnecock Hills was far more noteworthy than his major breakthrough at last year's US Open.
And while the burly American became a figure to be genuinely feared, Tommy Fleetwood emphasised that he is the Briton knocking most loudly for admittance to the major winners' club.
It was a brilliant final-day display from Fleetwood to surge through the field in such spectacular style and come within inches of the first 62-stroke round at a US Open.
But Kopeka's composed title defence has shown the understated Floridian to be a golfer of great substance.
Last year he was seen as a beneficiary of the benevolent Erin Hills set-up. He was the best bomber in a bomber's paradise - taking advantage of ridiculously wide fairways to finish at 16 under par, which is not the kind of score one associates with the US Open.
Twelve months on from that anomalous championship in Wisconsin, Koepka proved he had the physical and mental attributes to deal with an environment much more akin to what we expect from the USA's national championship.
Let it not be forgotten he was seven over seven holes into his second round - two over for the day - before bouncing back to card an inspired 66. Then on the Saturday, he overcame the brutal course set-up to shoot a 72, which was arguably his best round of the week.
By its own admission, the USGA had messed up with several pin positions on a parched course for that third round. It was unfair and yet another error of judgement by the American governing body that seldom escapes a US Open without heavy criticism.
Not that Koepka is complaining. He toughed it out to create his final-round opportunity and was up to the test of staying inside the target set by the flying Fleetwood.
"This one's a lot sweeter," Koepka said. "To win on two different styles of golf courses. Shinnecock plays incredibly tough, and you knew that going in at even par was going to be a really good score. It turned out it was almost impossible to shoot even."
The 28-year-old's single-shot victory at one over is all the more noteworthy given that he missed the Masters with a troublesome wrist injury that left him doing little more than watching TV for three months.
This was only his fifth tournament back but he had already signalled his readiness with an impressive runner-up finish to Justin Rose at the Colonial event in Texas at the end of May.
Make no mistake, Koepka is the real deal, with talents that will make him a force at most other majors.
"A US Open is always going to be a tough test of golf. I enjoy that," he said.
"The Open Championship, I think, suits very well and we always seem to play good at the PGA. The only one I haven't figured out is Augusta."
But, of this hugely talented American generation, he remains largely anonymous.
"I always feel like I'm overlooked. I couldn't care less. It doesn't bug me. I just keep doing what I'm doing, keep plugging away, kind of hide behind closed doors sometimes, which is nice, kind of the way I'd like to keep it," he said.
'Fleetwood seems equipped to cope with great expectation'
Given his prodigious talents, that will become harder and harder to achieve. And Fleetwood is also likely to become more and more familiar as well.
Not just because of his distinctive beard and flowing locks but because the 27-year-old from Southport also has the temperament and technique for golf's biggest stage.
Twelve months ago he marked Koepka's winning card while finishing fourth at Erin Hills and his talents did not go unnoticed. "He's a great player," the now two-time US Open winner stated.
"I've known him for maybe five years now, he's an incredible player. He'll definitely be holding some major championships here soon."
There are no guarantees, but Fleetwood looks increasingly ready. He has an explosive quality that can reel off birdie blitzes such as his four in a row on the back nine at Shinnecock on Sunday.
But there is a steadiness which helped him win last year's Race to Dubai, the French Open and a successful title defence in Abu Dhabi. He is also the course record holder at Carnoustie - which hosts The Open next month - where he shot 63 at last year's Alfred Dunhill Links Championship.
Fleetwood was mighty close at this US Open and runner-up was his best major finish to date.
"It's just more proof that I can get up there. I think I can compete in any company. I'd like to do it more. The majors and big events eventually bring the best players to the top," he said.
"They are the ultimate tests of golf and it shows you where you are at and what you need to improve. I have plenty of improving to do.
"After this finish the next really big one people will look at is The Open and I have put my name in the frame again."
Undoubtedly Fleetwood will carry great expectation on the Angus fairways next month but he seems equipped to cope. Being the local favourite at Birkdale last year, bouncing back from an opening 76 to make the cut, was an invaluable experience.
So was last week at Shinnecock Hills - where Kopeka, the champion, reinforced his elite credentials and Fleetwood showed he is not that far behind.