US Open: Brooks Koepka is 'unflappable', says caddie Rickie Elliott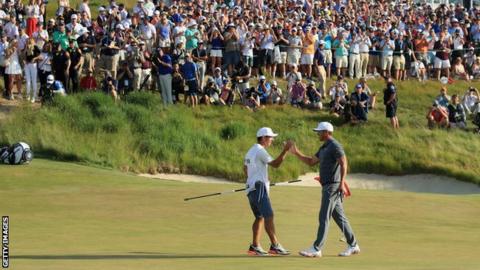 As Brooks Koepka sank his final putt on the 18th at Shinnecock Hills to retain the US Open, his caddie Ricky Elliott was already moving in to celebrate.
Koepka is the first man to defend the title in 29 years but his win was even more remarkable because of the wrist injury he overcame to simply take part.
He missed the Masters in April with a torn tendon that threatened his career.
"He's just a real strong mental guy, he's unflappable," said Northern Irishman Elliott.
The day after Patrick Reed's triumph at Augusta, Koepka was given the all clear to begin practising again and his caddie met up with him later that week to assess how much work they would need to do to get back to a competitive level.
"I went down and he was hitting full shots, and he was hitting them right out of the button," said Elliott, who is a former Irish boys' champion.
"I'm going, 'Are you sure you haven't been practising?' He didn't hit a shot for three and a half months, and it looked like he hadn't missed a beat.
"I have no idea how he does it; he's obviously a tremendously talented guy."
In the space of 10 weeks Koepka, 28, had recovered from an injury that left him wearing a soft cast for two months to becoming the first man since Curtis Strange in 1989 to retain the toughest and most uncompromising major on the golfing calendar.
As his player was completing the media duties that come with winning a major title, Elliott praised his mental toughness in an interview with ESPN.
"When he hits a bad shot, he never gives me any grief. He gets on with it," the Portrush native said.
"I mean, to this day, if we hit one over the back [of the green], he'd probably just turn around to me and go, 'Well, I hit that quite a bit hard', which is unusual for a good athlete or player.
"He takes a huge responsibility in what he's doing out there. Makes my job very easy."
As a consequence of his second major title, Koepka has climbed five places to fourth in the world rankings.
His victory at Shinnecock Hills was built upon some superb putting, including a clutch bogey on the par-three 11th hole after a wayward tee shot.
"To get that up and down was absolutely massive," added Elliott.
"It's hard to believe that a bogey keeps your momentum going but it kinda did.
"He's been one of best putters on tour and hits it a long way, but his short game is so good."