Stuart Manley: Welshman on course for back-to-back wins on Challenge Tour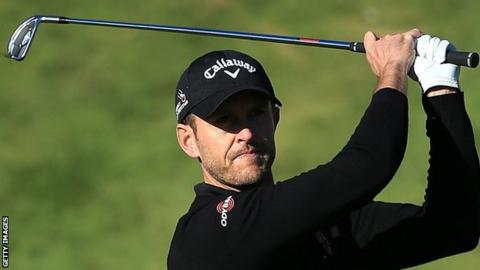 Stuart Manley is in a strong position to win back-to-back European Challenge Tour events after taking a share of the lead at the Scottish Hydro Challenge.
The Welshman, who won the Hauts de France Golf Open last week, is level with Portugal's Pedro Figueiredo at eight under par after a round of 69.
Kristoffer Broberg was the last player to win successive Challenge Tour events, a feat achieved in 2012.
"To win back to back would be an amazing achievement," Manley said.
"But it is nice being in the mix again and giving myself a chance - hopefully I will take it tomorrow.
"I just want to go out there and take the golf course on and I will not be nervous.
"I felt really comfortable today after winning last week. Previous Saturdays when I've been in contention I've felt a little bit on edge but today I felt very comfortable."