Matt Wallace has turned into a prolific winner and is storming up the rankings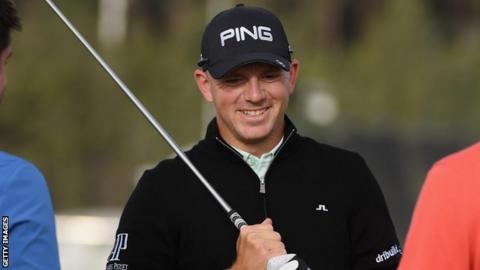 Few players will head into the current swing of lucrative European Tour events with more confidence than Britain's Matt Wallace.
The 28-year-old Englishman is turning into a prolific winner, with victory in last week's BMW International Open the ninth triumph of his young professional career.
Wallace has climbed more than 1,600 places in the world rankings since September 2015, having acquired an impressive knack of capitalising on winning positions.
"It's crazy but it doesn't feel strange. It doesn't feel like I don't deserve to be here because I've worked really hard," he told this week's edition of The Cut, the BBC golf podcast.
Wallace won six times on the lowly Alps Tour to gain a foothold on the Challenge Tour before graduating to the full European Tour with victory in Portugal in May 2017.
Earlier this year he beat Andrew "Beef" Johnston in a playoff to win the Indian Open before becoming a three-time winner on the main tour last Sunday.
Wallace is convinced the art of winning is in his DNA.
"My parents were both PE teachers, Dad played rugby for Wasps and my sister is sporty as well," he said.
"I've just grown up in a household of competing, I was just brought up that way.
"I lost a few friends and got into a few arguments about it because I just need to win all the time. It's become healthy now, rather than when I was younger when it was kind of unhealthy that I wanted it that bad.
"Now the competing aspect is a healthy thing - I go to tournaments and I don't shy away from that moment of wanting to be there and involved and up against it, and I like that."
A former Middlesex schoolboy cricketer, his professional golf career seemed have stalled in his early twenties.
"I had a moment when I said, 'what am I going to do when I'm 27, 28 years old?'" he admitted.
"I was doing nothing, I was earning 50p on the Alps Tour. I didn't see any improvement in my golf and I was struggling.
"Come six years on and I'm a three-times European Tour winner, which is still crazy, but it is something I set my goals and my mind at. When you work hard, those good things come."
Wallace is enjoying the high life in every respect. To get to Cologne last week he was flown by the organisers on a private jet from the US Open, where he missed the cut.
"When I was on it, I thought 'wow, this is amazing'," he said. "To get on a private jet is pretty cool, it was my first time and hopefully not my last. It's surreal, it's a brilliant way to travel, a lot easier than having to go commercial.
"It's a one in a million chance that we get to do it and I got to do it that week, and it's really cool."
It is clear Wallace revels in being at the sharp end of a tournament. He was clinical in Germany from the moment he saw Thorbjorn Olesen set a target at nine-under-par after a brilliant 61.
"On seven, when I saw Thorbjorn was at nine under, I just said to Dave [McNeilly, his caddie] 'we have to get to 10. There are no questions asked, we've just got to get to 10 under'.
Wallace reached that mark with a daring tee shot to a tight pin at the 16th but still needed to hole a testing six footer at the last to remain in the lead.
"I work hard on the putting green, giving myself pressure putts and it was just another putt and rolled it straight in the middle," he said.
"It becomes natural when you do it enough times. Yeah, you're nervous but you go through the routine; I pick my spot in front of my ball which I do for the short ones and everything just felt the same.
"Nothing crept into my head. It was just like 'I have to make this putt'. There's no questions, you've just got to do it."
Winning is never easy. On the same day another Englishman, Paul Casey could not convert a four-stroke 54-hole lead into victory at the Travelers Championship on the PGA Tour.
Struggling to control his swing, Casey laboured to a closing 72 and was the only player not to break 70 in the top 18 finishers. He opened the door for Bubba Watson to claim his third win of the year.
The lead seemed a burden for the experienced Casey who suffered the malaise familiar to many top players who struggle to back up a very low round the previous day. He shot 62 on the Saturday to assume that seemingly commanding position after three rounds.
"Didn't have my swing all day and fought it, and battled as hard as I could," Casey said. "But to only make one birdie all day is not good enough."
While Casey analyses what went wrong, his younger English compatriot Wallace is relishing the steep upward curve he has found.
"I'm fortunate that I have the mentality that I can go and speak to the likes of Robert Rock," Wallace said of the European Tour player who has been helping him with his long game.
"I'd never met him before Ireland last year. I didn't have a coach and I said 'is there any chance you can have a look at my swing?' So I put myself out there and he said yes."
Wallace, now ranked 66th in the world, has had similar conversations with Thomas Bjorn about his wedge play and Paul Lawrie regarding chipping.
"I like talking to these guys because they've been there and done it," Wallace said.
"They'll tell you technically what's right but they'll also tell you what's going to work for you in the situation where you need it to happen.
"It's why I am what I am now, because of them. Credit to them, I thank them a lot."
Now it is all about cashing in on the Rolex Series riches as Wallace prepares for this week's French Open, then the Irish and the Scottish before making his Open debut at Carnoustie.
It is an exhausting run but if he finds himself in contention for another title we can be confident he will not lack the mentality to make the most of the opportunity.