Paul Lawrie on injury woes and Open hopes for son Craig
Last updated on .From the section Golf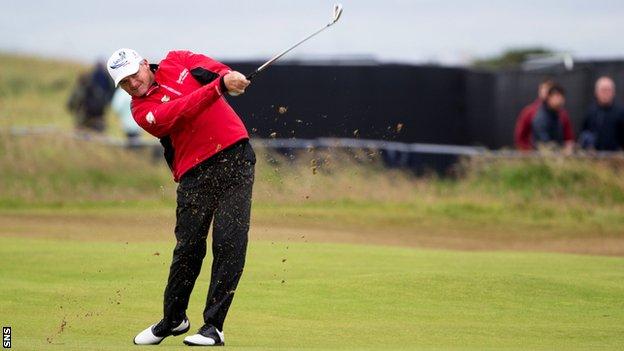 Paul Lawrie says seeing son Craig reach this year's Open Championship would help make up for his own withdrawal.
Lawrie senior won the Claret Jug in 1999, but will not make the return to the Carnoustie course owing to persistent foot and back problems.
However Craig, 23, could reach the event should he progress through qualifying.
"To see him peg it up at an Open would be one of the proudest things ever," Lawrie, 49, told BBC Scotland.
"He has a chance. He's only 23, but he's progressing nicely. It'll be great to see him get through."
Lawrie Jr shot a 68 in regional qualifying at Panmure on Monday to progress to final qualifying next Tuesday, 3 July.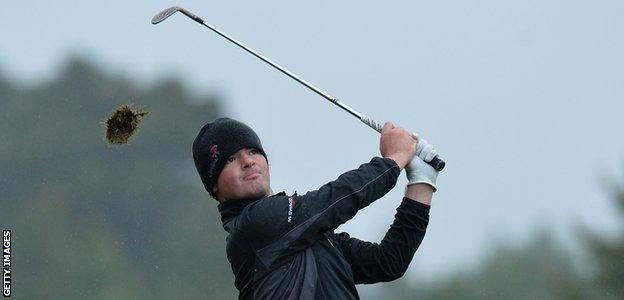 Lawrie revealed he has been playing with a foot injury for six years, which occurred just months before helping Europe win the 2012 Ryder Cup.
The injury has got progressively worse, with a back problem adding to his woes and forcing him to stop playing for a few months in order to get treatment.
"It was obviously a difficult decision to make but I just thought a few weeks ago, 'man, I can't do this anymore'," he said.
"My body just won't let me do what my mind wants. I just feel frustrated that I can't play and hit balls the way I want to and I can't get into positions I want to get into.
"My game is not at the level where it needs to be to play in an Open, no matter where it is."
Lawrie is the last Scottish winner of the Open Championship and the last Scot to win a major, having defeated American Justin Leonard and Frenchman Jean van de Velde in a play-off at Carnoustie 19 years ago.
Van de Velde needed only a double-bogey six to win, but scored a seven on a nightmare 18th hole.
"I was 10 shots back but in 13th place, so I was having a good week, but turning a good week into winning the Open was not something I thought about at all until the back nine on Sunday," said Lawrie.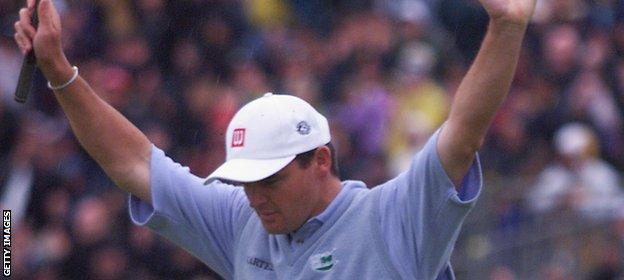 "There was more people appearing, the cameras were appearing, my name appeared on the board for the first time around the 11th or 12th hole, so now you realise you've got a chance and are in contention. It's such a tough finish here, it's such a tough course - anything can happen. So right from there I thought I was in with a shout.
"We were on the range, and when his tee-shot at the 18th landed on dry land we headed back in thinking that was that. Obviously what happened, happened.
"I understand people say Jean threw it away, which he did, but until you're in that position, leading a tournament of that size, you don't realise how mega tough it is to be in control of your body never mind your emotions. I can fully understand what happened to Jean.
"Not many people would have taken it as well as he did. He kicked on and played the Ryder Cup a few months after."