Irish Open: Ballyliffin pulls a rabbit from the hat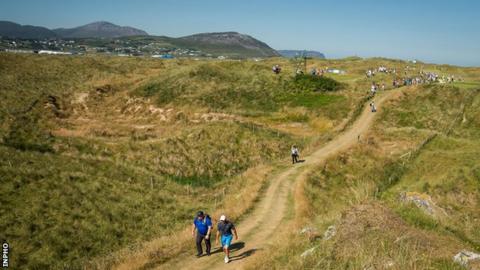 2018 Irish Open
Venue: Ballyliffin GC, Co Donegal Dates: 5-8 July
Coverage: Click here for details on daily BBC One NI and BBC Radio Ulster programmes from 4 July. Updates, reports and features on the BBC Sport website.
A summer's evening in 1978. A nine-year-old Donegal kid is trying to find the golf ball he struck 120 yards down the middle of the Ballyliffin fairway but it has vanished down a rabbit hole.
My short arms are not long enough to recover most of the balls that disappear underground.
"That's not fair Dad. I hit that ball down the middle," I cry.
"Never mind son. That's what happens in Ballyliffin," replies my father after another fruitless search.
I dropped another ball down beside the offending rabbit burrow and continued.
Before the round, I had watched my father putting two Irish punts in a small brown envelope and dropping it into the green fees box as not another soul inhabited the old shack of a clubhouse.
The thought of an Irish Open being played among these sand dunes and humps and hollows never entered my head.
The man who made it happen
On another summer's evening 40 years later, Ballyliffin Golf Club's general manager John Farren is waiting to do a live interview with my BBC Sport colleagues.
It is 36 hours before the first tee shot of the 2018 Irish Open will be struck, just 150 yards from where he stands.
The interviewer apologises for "all the hanging around" as Farren has to wait some 20 minutes until he is required.
But the Ballyliffin chief is the epitome of calm as a few of us recount some fond memories of days spent on this magnificent links turf.
Farren, a native of nearby town Carndonagh, was already steeped in Ballyliffin when he was appointed to the general manager's role 14 years ago.
His Mayo-born father Ignatius had served as club captain in 1979 before going on to become, among other roles, the club president and a trustee.
Not long after taking the Ballyliffin role, Farren let it be known to a number of local journalists that he believed this seemingly remote and neglected corner of north Donegal should be aspiring to host an Irish Open.
Granted, Ballyliffin's Pat Ruddy and Tom Craddock-designed Glashedy course had hosted the Women's Irish Open in 1998, three years after its official opening, and then staged the North West of Ireland Open in 2002, an event co-sanctioned by both the European Tour and Challenge Tour.
But the suggestion that the Irish Open could one day come to Ballyliffin seemed fanciful, even to lovers of the Inishowen venue.
"I was given the capacity and the authority to pursue it.
"There were certainly people who thought I was dreaming and that this would never happen to Ballyliffin. Everyone likes to prove doubting Thomases wrong," adds Farren, before emphasising that it was "far from a one-man effort" to bring this week's $7m Rolex Series event to Donegal.
However, it is accepted by everyone in the know at Ballyliffin that Farren's skill in forging the club's relationship with the European Tour and other key stakeholders played a key role in this week coming to fruition.
"We have to remember the people that have gone before and who invested and had the foresight to build the second course and to buy the land in the first place," continues the Ballyliffin general manager.
"It's not all about what's happened in the last 10 or 12 years. This journey began probably 50 years ago when people started out with lawnmowers cutting the grass here. We've come a long way since then."
'Donegal will deliver'
With the venue effectively having been handed over to the European Tour last Friday, Simon Alliss, son of legendary BBC commentator Peter Alliss, is the public face of this week's event in his tournament director's role and he believes a sun-baked Ballyliffin is going to "put on a super good show".
"Look outside. The sun's amazing. We're really happy. The crowds are already here. Everything is looking really good," said Alliss, after seeing Rory McIlroy tee off in front of a couple of thousand spectators in the pro-am on Wednesday morning.
"The Tour representatives have been out and they are really pleased. The golf course is in super condition. They have got it just right and we can play around with it if we need to quicken it or slow it. It's absolutely perfect."
The comparative remoteness of Ballyliffin from Ireland's major urban centres has led to concerns that this week's crowd figure could be some way shy of last year's 80,000 paying spectators at Portstewart.
However, the glorious weather conditions in Donegal, expected to continue into the weekend, should boost the prospects of crowds flocking to Ballyliffin.
"We're doing very good with the ticket sales, especially with the region and where we are. We've never been here before," adds the tournament director.
"I'm not going to give a number but I'm hoping we'll be close (to 100,000)."
For his part, Farren has no doubt that this week is going to be a roaring success.
"Donegal will deliver and not the just Donegal - the whole North West," says the Ballyliffin general manager.
"We expect big numbers from Northern Ireland to come here and enjoy the Donegal sunshine.
"My aspiration is to hit somewhere near 90,000. I'd like to exceed that and that would put us on a par with any Irish Open since Royal Portrush, which had charm of first time returning to Northern Ireland and got everybody out.
"If we get crowds of that level, it will justify the European Tour's confidence in taking a bold step in putting it in a rural economy."