Russell Knox's Irish Open win 'huge for Scottish golf' - Duncan Stewart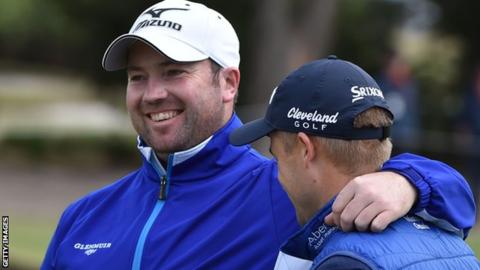 Russell Knox's Irish Open win proves "Scottish golf is in a better position than we think", says European Tour player Duncan Stewart.
Knox, 33, holed two 40-foot putts to beat Ryan Fox in a play-off, moving him to eighth in Europe's Ryder Cup places.
His close friend Stewart, 34, who got into this week's Scottish Open at Gullane by winning a qualifier at Longniddry, believes Knox's victory is the first of many Scottish triumphs.
"It's huge for Scottish golf," he said.
Stewart admits the game in Scotland has undergone a barren recent period, with no major winner since Paul Lawrie clinched the Open Championship at Carnoustie 19 years ago, and with no Scot in Europe's 2016 Ryder Cup team.
He is one of 18 Scots who will compete at Gullane on Thursday, although there has not been a home winner in the event since Colin Montgomerie at Loch Lomond in 1999.
But Stewart cites the rise of "the young team" as evidence more Scottish names will be battling for prizes soon.
"He [Knox] has been saying for a few weeks now that something big was happening," Stewart told BBC Scotland.
"It's been coming for a long time, he's just had to be patient. He had a little dip in form, which we all do. He's worked hard, he's got through the rough part. He's in the top 50 again and if he can stay there then he's in all the big events.
"It just shows you how tough it is. Richie Ramsay has played great, Stephen Gallacher has played great, Marc [Warren] has played great over a time. The standard these days - I don't think it's appreciated how hard it is to win and be in the top 50 in the world.
"A lot of the young guys coming through are doing great, and I don't think it'll be long before we have more guys out on the European Tour.
"These guys are serious players that are coming through. They've got something about them. They've got the right game, a good attitude, a good work ethic.
"Every country has a lull and we've had a lull for maybe too long."
It would appear to be a tall order for a home name to claim the Scottish Open with no fewer than 20 of the world's top 50 players in the field, including April's US Masters winner Patrick Reed and runner-up Rickie Fowler.
"It's where you want to be," Stewart added. "We all appreciate the qualifier and the chance to get here.
"I've played quite a lot here so I know the course very well.
"We all want to do well, we maybe try too hard. This is a huge event, you look at the world-class field that are coming over, the amount of guys in the top 50 in the world.
"So it's not an easy one to win but it would be great if it was a Scottish guy that won at the end of this week."