Scottish Open: Phil Mickelson says US Open rule break was down to 'mental lapse'

By Tom English
BBC Scotland at Gullane
Last updated on .From the section Golf19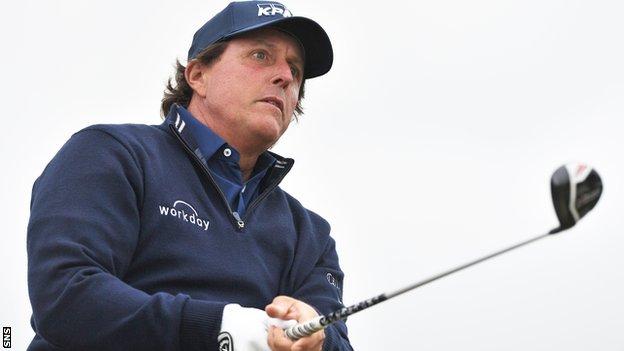 When Phil Mickelson finished his opening round at the Scottish Open at Gullane on Thursday he looked at the media pack awaiting his arrival into the mixed zone and cracked a joke.
"Guys, I'm not going to talk about today's round, but if you have any questions about what happened at the US Open last month I'm happy to answer them."
The list of questions about what he did at Gullane: zero. The list of questions about his rule-breaking and subsequent brazen defence of what had amounted to cheating at Shinnecock Hills last month: plenty.
"I have had mental lapses throughout my whole life," said Mickelson, in his first proper discussion about his behaviour on the 13th green of the third round at Shinnecock, when he admitted to deliberately putting a moving ball in order to stop it running off the green and into an unenviable position. "It's not new, but that was one of the worst ones. It's not been my best month, OK. I've had a rough month and I'm working at trying to fix that."
Mickelson was penalised two shots for his actions at Shinnecock. Many observers believed he should have been disqualified or even withdrawn from the final round. He was penalised again last week at the Greenbrier on the USPGA tour, this time for stamping on a tuft of grass in front of his ball.
In the immediate aftermath of his moment at Shinnecock, Mickelson advised all those who took umbrage at his actions to "toughen up". Asked about it now he, finally, engaged properly with the question.
He said: "Regrets? Oh sure, I made a big mistake and I wish I could take it back, but I can't. It wasn't a great moment and there's not much I can do about it now apart from just trying to act a little better.
"Throughout my career of 25 years there has been a lot of times where I have had to be accountable for decisions I did not make and the reason why this has been easier is because it was my own fault. The articles and the backlash is my own fault. You have to be accountable. I do a lot of dumb stuff.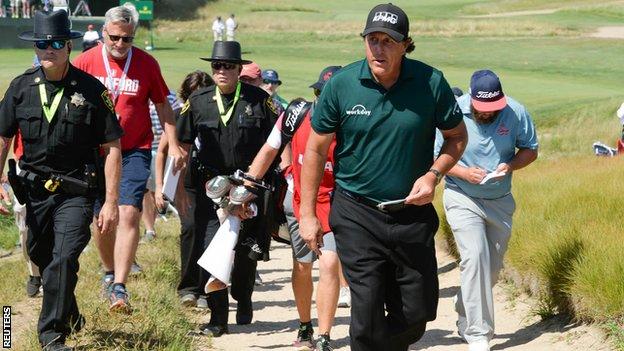 "I had that rules deal at the Greenbrier last week and last year at Greenbrier I picked up my ball in the middle of the fairway and marked it and cleaned it. I have these moments where I'm in a cloud and I'm not really sure what I'm doing, not really aware of the moment.
"I've done that a bunch in my career. I've picked up the ball and marked it and cleaned it probably four or five times when the first couple of days was lift, clean and place, and I kept doing it [after it was no longer lift, clean and place]. I do stuff like that. It's just the way my mind works.
"We all make mistakes and that was certainly one of them. Not only was I not great on the course I was not great after the round either. It was not a great day. And it was my birthday and I tend to do dumb stuff on my birthday.
"It took me days [to calm down]. I was pretty angry. The way I show anger is not the traditionally accepted way of throwing clubs and berating the fans and marshals. I tend to be more passive-aggressive in my actions."
It was the interview Mickelson should have done the day after the US Open last month, but he's done it now. He shot level-par 70 in his opening round at Gullane, a mere incidental given all the other stuff swirling around his ears.