Scottish Open: Near-perfect Brandon Stone wins on peculiar day at Gullane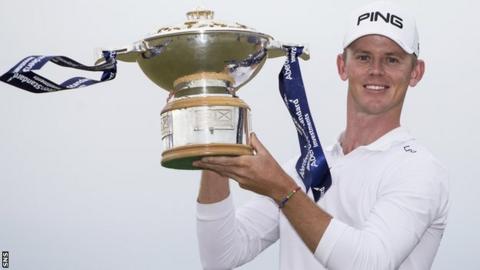 A day that began with the surreal spectacle of a Scottish crime-writer cum Gullane marshal accusing Ian Poulter of verbally abusing him by a bush on the first hole in Saturday's third round - Poulter categorically denied that any foul language was directed the way of the volunteer - ended with an even more bizarre sight of Brandon Stone, the world number 371 from South Africa, crouched over an eight foot putt to shoot the European Tour's first ever round of 59.
Stone had played wondrously all day. He had moved through a stellar field and had separated himself from the whole lot of them. He was 20-under par playing the 18th and the tournament was his.
Lord knows how many players from Lord knows how many countries on Lord knows how many golf courses have all tried to break 60 in Europe and all have failed. There's been 688,996 rounds in total and 28 rounds of 60, but no 59.
This, we thought, was the moment.
Only it wasn't. "My caddie came up to me and said, 'You don't get putts like this too often'," said Stone, later. "So I let him read it. I said as we walked on the green, 'I'm not reading this one. This is completely up to you'. I rolled it over his mark, but he did criticise my pace. He said it lacked a little bit of pace. He's probably right. It didn't hold its line, but we'll take it."
We'll take it? That, surely, is the understatement of his golf career. Stone is 25 and becomes the fourth South African to win the Scottish Open after Ernie Els, Retief Goosen and Tim Clark. More than 100 players were more fancied in the betting at the beginning of the week, which is no surprise. Stone has talent - and has won twice in South Africa - but he hasn't been mapped since the end of 2016.
How could you have picked him out the pack? Last week: 69th in Ireland. Week before: Missed cut in France. Before that: Missed cut in Germany, 65th in Italy, 60th at Wentworth. It had been 18 months since he had a top-10 finish on the European Tour and all of a sudden he was one sinkable putt from taking a shredder to the Tour's record books. Golf, eh?
"My mental state was flawless," he said. "A day where you're shooting 60 and winning the Scottish Open is something I'm going to hold dear to my heart for a long time. My caddie had banned me from looking at any scoreboards and every time my eyes would wander that way he would quickly grab my attention.
"Walking on the 18th green I took a look and saw it (the scoreboard). I was like, 'Oh, here we go'. I looked at him (his caddie) and he looked at me."
It wasn't to be - and he sank to his knees as a result. Moments passed and the realisation of what he could have achieved gave way to what he had achieved - the biggest title of his life, the biggest pay day of his life, a place in The Open champions field at Carnoustie next week and a world ranking that will now rocket from nowheresville to a whole lot closer to the world's top 100.
The day had been a peculiar one. The big names that you expected to motor - Russell Knox, Rickie Fowler, Justin Rose - never quite got in the shake-up in the way you thought they might. The finishing top five had world rankings of 371 (Stone), 117 (Eddie Pepperell), 59 (Luke List), 1380 (Trevor Immelman) and 322 (Jens Dantorp). Immelman, whose performance here was as magnificent as it was unexpected, missed out on a place at The Open because Dantorp's ranking was higher than his.
There was a welcome continuation of Stephen Gallacher's return to form. Gallacher has been having a grim time of it, but he threw in a final round 66 to go with the early 65, 66 and 70 to finish top-10.
Knox's heroics in Ireland last week finally caught up with him. He drove it into trouble on the first hole and took double-bogey and never recovered. "Time to press the reset button," he said. Knox should come again strongly at Carnoustie.
The week belonged to Stone, though. He comes from a golfing family - his father, Kevin, and his grandfather, Sam, were both accomplished players who represented their country - but neither of them ever did anything like this. When Stone won the South African Open in 2016 he did in the most nervy of circumstances after coming back from dropping five shots in seven holes.
At Gullane, it was a procession. Not quite a historic procession, but something very special all the same.