The Open 2018: Sandy Lyle hopes it is 43 and still counting after Carnoustie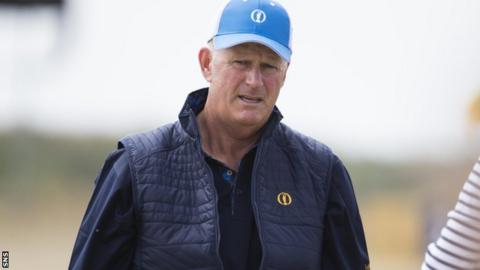 The 147th Open Championship
Venue: Carnoustie, Scotland Dates: 19-22 July
Coverage: Live across BBC Radio, highlights on BBC TV and online, live text commentaries on BBC website.
It was summer of 1974 and a 16-year-old boy was standing on the first tee at Lytham, a nervous wreck as he recalls now, all these decades later.
Young Sandy Lyle had a 4-iron or a 5-iron in his hand. He can't quite remember which, not that it matters.
What he can remember is the peculiar whistling of his playing partner, Fuzzy Zoeller, and mild panic gripping him as he was about to hit-off in his first Open championship. On Thursday, at yawn o'clock Carnoustie time, he will hit-off in his 43rd.
This could be, probably will be, his last stand. Age 60, the Scot is getting ready to say goodbye.
We have to put Lyle's golfing longevity in some sort of perspective. In the field that week at Lytham were Fred Daly, Bobby Locke and Max Faulkner, three men with six Claret Jugs all won before Lyle was born.
Charles Aznavour was number one in the charts. Scotland had just played in the World Cup, the only British team to get to West Germany that summer.
Celtic had made the semi-final of the European Cup. McDonald's had not yet opened a restaurant in the United Kingdom, Lord Lucan had not yet disappeared.
England had just sacked Alf Ramsey and Bill Shankly was about to retire from Liverpool. Manchester United were relegated by Denis Law and Manchester City. A new television show was about to be aired - Porridge.
Forty-three Opens. Forty-two in a row since 1977. In the 147-year history of The Open, only Gary Player, the eventual winner in the Scot's first appearance, has made more appearances. That's something special, something that means a lot to Lyle, as does the honour of hitting the first shot on Thursday morning.
Lytham in '74? It'll never leave him. "I played a practise round with Gary Player," he says. "I kind of cheekily put my name down on the starting board thinking he's probably not going to turn up, but he did. He was very graceful and chatted away, asking me where I was from.
"I'd played well to qualify a few days before, so I was excited. But, as an amateur, as I was back then, you don't have high expectations.
"It was about enjoying it as best as you can and shooting as low as you can. I made the first cut - there were two in those days.
"Unfortunately, I then got stuck in a bunker about the fifth hole [in his third round] and got out of it about five minutes later looking rather red-faced and as though I had the whole world on my shoulders.
"It was doomsday all of a sudden because it was heading for a 9 or a 10 on that par-5 hole. That blew my chances of making the second cut. It was a bitter-sweet finish as it blew my chances of winning the Silver Medal as well."
Lyle isn't too old to dream. He's a realist, but he looks out on the Carnoustie links and an image of Tom Watson at Turnberry comes into his head.
"Tom is in my mind given what he achieved in 2009," he says. "That was absolutely amazing. I got a lot of grief from my dear wife about that. She was saying, 'See what age he is! He's almost 60!"
"If I do well and make the cut, it's going to be quite an emotional last hole, whoever you are. I was quite emotional when I was watching Jack Nicklaus play his final hole at St Andrews.
"It just gets to you. You might think 'I'm hardened', but if you've got any bit of sense in there, it'll happen I'm sure."
The one week that stands out above all others is, of course, Royal St George's in 1985 when he beat the late Payne Stewart by a shot and won his Claret Jug. He took home £65,000. The winner this week will trouser close to £1.5m.
His overall record? For a player who had his class, oddly underwhelming. He's only finished in the top 10 on three occasions.
"There's been some joys and then there's been miserable times," he says. "I've had to retire after nine holes because of injuries and things like that, which are things you don't like doing. There's been highs and lows. Everybody's had that.
"I think the two majors I was the closest to winning were the ones I actually won. The rest of it was all a bit disappointing really.
Scots teeing it up at Carnoustie
Player
Age
Previous Opens
Best finish
Russell Knox
33
3
T30 (2006)
Sandy Lyle
60
42
1st (1985)
Sam Locke (a)
19
0
Debut
Scott Jamieson
34
3
Missed cut
Grant Forrest
25
1
Missed cut
"Performances in US Opens and the PGAs, I was never really in the hunt. I won two, so I'm not complaining.
"I've had no disappointments where I've had a lead and lost it with two holes to go. Phil Mickelson had about four, five seconds in the US Open, which can get a bit heavy on the old brainbox after a while. I've been fortunate in that way, but maybe unfortunate not to create some better chances."
He'll lead them out on Thursday, his strategy fairly set now in his mind. A mid-iron off the first tee just like he did as a teenager at Lytham all those years ago; a fairway, a green, a steady start that he hopes will build into something that will keep him here until Sunday.
The course is in his favour. Length isn't much of an issue for him here - unlike, say, at Augusta, where he feels his age, sometimes twice his age, whenever he battles his way around there. "You can be aggressive in these conditions," he says. "I heard that Rory McIlroy is planning to hit driver a lot. That could pan out well or it could be a disaster.
"Keep an eye on Bernhard Langer. He's shooting 68s all day long, week-in, week-out on the Seniors Tour.
"If you're a betting man for top-10, he'd be quite good money. I think he could contend, very much so. He's precise. He gets the ball on the fairway.
"He's not an aggressive player, but he'll put numbers on the board. Straight is good out here. Use the head and stay out of the bunkers.
"It's a thinker's golf course. That's what wears you out. There is a lot to think about off almost every tee."
Now that he has reached the cut-off age of 60, Lyle's win at Lytham doesn't get him a slot anymore. From here on in, he'll have to qualify if he wants to play in the championship again.
A top-10 finish on Sunday will do it. A win in next week's Seniors Open will also get him to Portrush. Even his biggest fan would find it hard to view this as anything other than his final Open championship week as a player.
"If my game's in reasonable shape and I'm healthy, there's no reason why I shouldn't give it a run," Lyle adds. "It doesn't have to be goodbye, but if I feel like the game isn't up to it then I'll be quite happy to hang the shoes up and watch it on television with my favourite brew beside me."
A gentleman and a champion, Lyle has nothing to prove to anybody. If this is the end then let it be a glorious one.