The Open 2018: Ash Turner's journey from cerebral palsy to his first golf major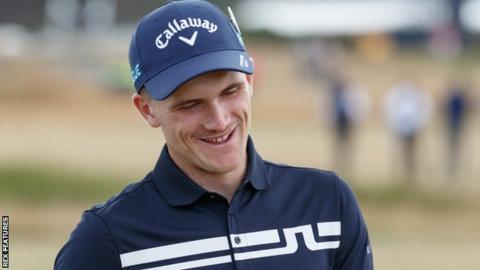 The 147th Open Championship
Venue: Carnoustie, Scotland Dates: 19-22 July
Coverage: Live across BBC Radio, highlights on BBC TV and online, live text commentaries on BBC website.
When Ash Turner tees off at the unforgiving Carnoustie course on Thursday, he can rest safe in the knowledge that he has already overcome his toughest challenge.
A freakish accident at the age of one, when he fell into a fish tank and fractured his skull, left him with a rare form of cerebral palsy. There were fears he may never be able to walk properly again.
Incredibly, the 22-year-old from Lincolnshire is now preparing to play in the 147th Open Championship - his first major tournament.
The condition he suffered from until the age of six, called ataxia, affected muscle control in his arms and legs. His parents, Simon and Angie, turned to golf as a way of improving his co-ordination and balance.
"I don't remember much," he said. "Only what my parents have told me, but the main problem was that I couldn't put my heel on the floor properly and would only walk on my toes.
"When I fell over, I wouldn't put my hands out, so for the first three years at school I had to wear a crash helmet.
"My dad had played a lot of golf when he was younger. And so my parents bought me some plastic clubs to see if it would help. And it did.
"I was soon smashing the ball out of our back garden, which was when they bought my first proper set of clubs."
From 800 quid last week to a £10m prize pot
At the age of four, his parents took him to see the professional at their local club in Louth, Paul Spence.
Almost two decades on, Spence is still the man responsible for shaping Turner's swing as he seeks to advance his golf career.
"Spen was great for me," he added. "And Kenwick Park was such a great club to join. Everyone was so friendly and helpful and made it easy for a youngster to be part of, which isn't always the case at some clubs."
After making steady progress through the schoolboy ranks, the former English amateur international competed in his first European Tour event in May.
He opened with a 72 in Sicily, but then fell away with a second-round 78 to miss the cut.
But he learnt a lot from that experience, as he showed by the nerveless way he fired three birdies and an eagle in his last five holes to qualify for Carnoustie by finishing top of Final Qualifying at Hollinwell last month.
Last week, he pocketed £800 for finishing 10th in a minor tour event in Leeds.
In Scotland the prize pot is close to £10m - and victory would make him an overnight millionaire.
"I feel my game is on an upward curve," he said. "Coming through regional qualifying, then winning at Hollinwell was a big boost."
'Playing with Tiger Woods is insane'
He also has the experience of playing at Carnoustie before in the 2015 Amateur Championship.
Not that there is much similarity between the sunbaked, straw-coloured, barren course he has walked in practice rounds this week to the weather he encountered three years ago - his final year as an amateur.
"It was raining hard, the wind was blowing, the rough was high and it was hard to reach certain greens," he said. "This week, the fairways are running faster than the greens.
"I just hope I can make progress this week. I know I'll be bricking it on the first tee, but, once I've got that out of the way, I just want to settle down and enjoy the round.
"Nobody said being a professional golfer would be easy. But golf has been clearly great for me. And, from where I've come from, to get into the Open and now be playing in the same major as Tiger Woods, is just insane."
Turner, who tees off with with American Sean Crocker and Malaysian Gavin Green at 11:15 BST, is the youngest of six Englishmen making their major debut.
Marcus Armitage, Tom Curtis, James Robinson, Jordan Smith and Matt Wallace are the others hoping to make the cut.