The Open 2018: Tiger Woods leaves Russell Knox in awe of 'mythical' playing partner

By Tom English
BBC Scotland at Carnoustie
Last updated on .From the section Golf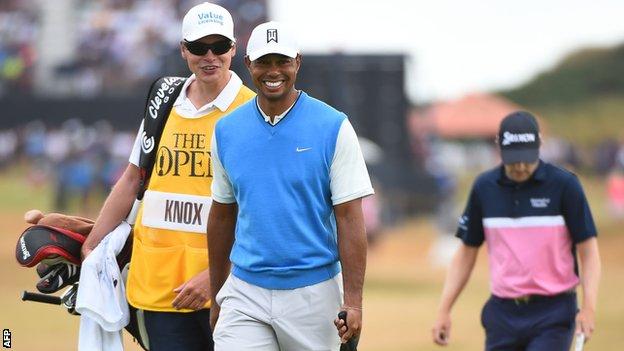 The 147th Open Championship
Venue:
Carnoustie, Scotland
Dates:
19-22 July
Coverage:
Live across BBC Radio, highlights on BBC TV and online, live text commentaries on BBC website.
Russell Knox was trying to get the words out to best describe how in awe he was of his playing partner, Tiger Woods, in the first round of The Open championship. "Tiger," he said. "I mean, he's almost like a mythical figure."
Woods has been called a lot of things by a lot of people and this can now be added to the list. Woods is no myth, no Loch Ness monster of the links. He's very real and, for Knox, he was almost too real and too intimidating.
Given that he was in awe of the American, there had to be a scintilla of relief for Knox that his love of the great man didn't distract him to such an extent that he played himself out of The Open.
It wasn't great, but Knox battled down the stretch and signed for a two-over 73 when it could have been a whole lot worse. "I played dreadful," he said. "I just didn't feel normal. I mean, it's Tiger Woods. How would you feel playing with him?"
Anybody who thinks that the Woods aura has slipped over the last decade should have got a load of Knox at Carnoustie. Even before he hit a ball off the first tee, he looked a nervy golfer.
After his second shot, straight in the greenside bunker, he looked vaguely nauseous. He was in the most awkward spot imaginable.
One leg in, one leg out. An unseemly sight to set before the King who was busy eyeing up a birdie putt that, of course, he made.
'The best golfer of all time'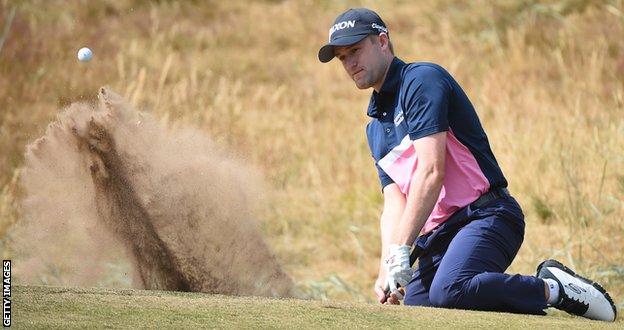 "I've won three times," said Knox, in an attempt to explain the Tiger Effect and the grip it had over him for much of the day. "I've played in front of loads of people for the last eight years, but it's a little different.
"He's the best golfer of all time. He's definitely the person I looked up to. I'm not going to lie. I mean, he's almost like a mythical creature.
"I knew it was going to be an uncomfortable round. I was never going to feel like I was out playing with my buddies, just freewheeling it.
"An Open in Scotland, playing with your hero, you're never going to feel like you're just winging it."
Knox followed his bogey on the first with another on the second, when he found sand again and then lipped-out for par. Two-over after two, this was not how he imagined it in his dreams.
Did Tiger say anything to relax his jitters? "No," said Knox, who didn't expect him to. "He wants to beat me. I'm a threat to him.
"I could make him not win this tournament, so I didn't expect him to help me through it. He's trying to bury me by 20 shots, as I'm trying to do with him.
"You kind of expect the worst and hope for the best. If I had shot 80, I would have thought it should be more.
"I feel like I should know what I'm doing. It's cool playing with Tiger, but I've got to get over that. I'm here to win, not just walk around the course."
It was quite something out there. For nine holes, Woods' golf and his demeanour made you believe that he is back to his best.
He plotted his way to the turn in two-under. His game-plan was conservative but beautifully executed. His irons were razor sharp, his focus sharper still.
The galleries were vast and the support he carried was constant. People called out to him, but he barely acknowledged them.
Kim caught in Tiger's traffic
This kind of madness was new to Knox but second nature to Woods. "You hear a lot of weird things out there, to be honest," said the Scot.
Time and again, after he holed-out, some of the crowd upped and left and headed for the next fairway, oblivious to his presence despite the fact that he was the home player. It didn't matter that Knox had yet to finish. They were away. Sometimes noisily away.
There was a scene out on the edge of the course that said something about the media circus around Woods. He was walking to the eighth tee with an entourage behind him. On the way to that tee, you pass close to the 13th tee and lo betide any golfer who happens to be in the vicinity when Woods passes through.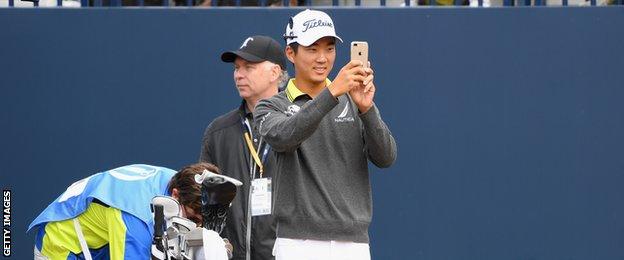 The golfer in question was Michael Kim, the 25-year-old American. Kim is not without distinction in the game. You don't have to go back too far to find the biggest day of his golf career. It happened last Sunday when he won the John Deere Classic, the first PGA Tour win of his life.
In that moment, attempting to get to the 13th tee while navigating the traffic following Woods, Kim looked like a guy trying to cross a busy road.
He looked left and right and waited for a break in the flow only for a cameraman to come thundering into his path, forcing him to stop in his tracks. "Jeez, you all following somebody famous?" he asked, sarcastically, but nobody was listening.
At that point in his round, Woods was doing a passing resemblance to the Woods of old, but it didn't last. The back nine was playing tough and he had to grind like the rest of them.
Knox, too, found something on those holes. An eagle brought him back to one-over, a bogey on the last made it two-over.
He'd have been happy with that as he stood fidgeting on the first tee hours before while looking over at The Man and wondering how on earth he was going to keep his stuff together in his company.
"I settled into it and enjoyed playing with him," he said later. "Tomorrow there's a huge chance that I'm going to feel much better than I did today."
This time, he'll be ready for the phenomenon that is Woods. Maybe.