The Open 2018: 'Tiger Woods resurgent, Jordan Spieth in command'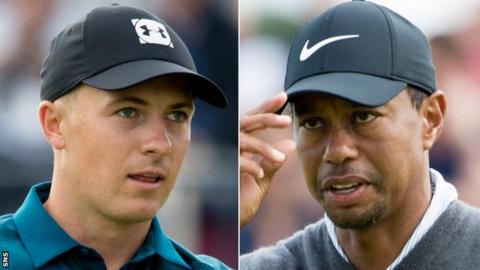 The 147th Open Championship
Venue: Carnoustie, Scotland Dates: 19-22 July
Coverage: Live across BBC Radio, highlights on BBC TV and online, live text commentaries on BBC website.
Rory McIlroy was patrolling the third green when a roar went up from across the Carnoustie links, a roar so loud that it could have been for one man and one man only.
The galleries turned their heads towards the din coming from the 14th green, then looked at each other and uttered just a single word - Tiger.
It was 16:31 and Tiger Woods had just moved atop the leaderboard at the Open Championship, his sixth birdie of a breathless day taking him to six-under-par while simultaneously transporting his vast support into fantasyland. After all the scandal and all the injury, all the darkness and so little light, Tiger was a contender again.
This was a day where the drama came in great waves. At times you didn't know where to turn. Massive eagle putts and balls in burns. Drives being smashed on to distant greens and drives ending up dead in bushes. There was anything and everything. This was major championship golf on the edge. And it was majestic.
The conditions were as benign as could be, the greens soft and receptive, the wind non-existent. There's a word these golfers use when the weather is like this. They say that the course is "gettable". Every one of the early starters came in and most of them said it.
Gettable? Justin Rose was the first to get it and get it big. Having had to hole a 13ft putt on Friday to make the cut on the mark, Rose was in the second group on the golf course on Saturday and went after Carnoustie with a vengeance, signing for a 64 long before the leaders had left the driving range or the practice putting green.
They were watching, though. All of them.
Woods saw Rose burning it up and took his lead from the Englishman, attacking at will, holing putts and carrying himself with the demeanour of the Tiger of old, when he was king.
Jordan Spieth then followed in Woods' slipstream. Knowing that this championship was about to turn into a cavalry charge between the game's elite he whipped out his driver on the opening tee and smashed it almost 400 yards to the green, then holed the putt for eagle.
Spieth didn't so much send a message to the field as personally deliver it to them right between their eyes. When he birdied his fourth hole to go to six-under we were already in the midst of one of those classic Saturdays where standing still meant going backwards.
When Woods got up and down on 18 for par and a 66 - his lowest round in the Open since Hoylake a dozen years ago - the sense of buzz around him was extraordinary. This was a version of Tiger we thought we may never see again, a version that he, himself, questioned the existence of. When did he last feel like this in a major championship?
"It's been a few years," he said. "But I'm right there. I've got a good chance at this."
If he wins - unlikely, but not impossible - where would he rate it compared to the 14 majors he has won? He smiled at that one. He could see the line - "This would be my greatest major," trumpeted Tiger - just as surely as if he was reading a putt. He smiled and declined the chance to crow.
"We're not there yet," he said. "I know what you're asking, but let me try to get there first. Then ask me again."
Woods was safely in the clubhouse, but there were hours left on the golf course. This day wasn't even close to being done. Francesco Molinari, Alex Noren, Rory McIlroy and Tommy Fleetwood flew the flag for Europe, but it is the new breed of Americans who dominate it. Kevin Chappell is on seven under and above him a three-way tie for first - Kevin Kisner, Xander Schauffele and the reigning champion, Spieth.
You could never say that Spieth gives off that "resistance is futile" vibe that emanated from Woods in his pomp, but you could have marched around Carnoustie last night and canvassed the opinion of knowing locals and the chances are that every last one of them would have named the Texan as their winner on Sunday.
What a sensational performance he delivered in his third round; what accuracy, what brilliance, what big-game temperament. From the moment he crushed his drive on to the first green, Spieth was on a mission. From three under to nine under with barely a suggestion of a struggle out there.
Back-to-back Opens? Padraig Harrington was the last man to do it. Back-to-back Opens from a golfer under the age of 25? You have to go back to young Tom Morris to find the last youngster who managed that feat. This is what Spieth is shooting for - a second Claret Jug and a place in the pantheon of Open Championship greats.
Does the weight of history mean anything to him? Not really.
"I felt like I had something to prove with last year's Open," he said. "Really to myself more than anything, I don't feel like I have to prove anything to anyone at this point. I've kind of got a cleared mind."
Spieth spoke about the re-emergence of Woods and how he has always wanted to battle it out with him in a major championship.
"I mean, I have played it out at Augusta in my head," he admitted.
On Sunday, they might get to do it for real if both deliver the same kind of brilliance we saw from them in their third round. The conditions will be tougher - the wind will get up and the course will be trickier - and the pressure will be at its peak, but this Open is set to have the kind of whirlwind finish that everybody hoped for.
A Woods fairytale? A European to upset the American raiders? A first-time winner in Kisner or Schauffele? Or the familiar sight of Spieth embracing the stress of a final day and producing the kind of stuff that has already won him a Masters, a US Open and an Open?
Spieth was asked what had he learned this week.
"Expect the unexpected," he said. "I'm not ahead of myself at all."
Will anybody be ahead of him on Sunday night? He's the favourite now. The man. The one they all have to beat.