Open 2018: Jordan Spieth collapse ends attempt to match 149-year record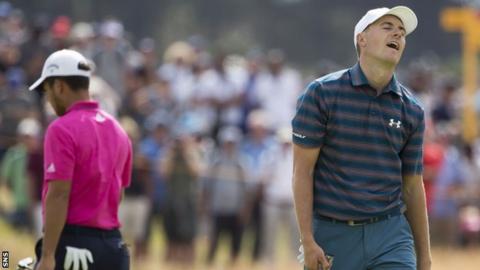 This was not the way it was supposed to be.
Jordan Spieth was supposed to win a second straight Claret Jug on Sunday at the age of 24 and match Young Tom Morris in the history books. He was supposed to use his brilliant tactical brain to see off all-comers from his position atop the leaderboard at the beginning of play.
He was supposed to crush the field slowly but surely. Tiger Woods, Rory McIlroy, Francesco Molinari and the rest. Fairways and greens, fairways and greens. No mistakes, no encouragement to the challengers. He was supposed to use his class and his experience in applying the pressure as if he was turning his rivals in a vice.
That's what many of us thought would happen, but many of us were wrong. Young Tom can sleep again - still the only man to win back-to-back Open Championships under the age of 25.
This was a final day with many sub-plots - a magnificent winner in Molinari, a tantalising brush with what would have been golf's ultimate renaissance story in Woods, a pulse-quickening prospect of a win for McIlroy and a collapse from Spieth. A collapse. There's no other word for it.
Spieth started the day on nine under par. Had he gone round in level par he would have won The Open. But he didn't. He shot 76. Only two men failed to make a birdie all day long - and Spieth was one of them.
The most together player of them all eased his way through four holes still in front of the field. It was dull and it was methodical. It was exactly as we expected. The galleries were quiet around Spieth because nothing was happening. In the windiest conditions we had all week, he was grinding.
On the fifth, he found sand off the tee and dropped a shot. Down to eight under now. A roar went up ahead of him - a Tiger roar. The great man was growling again, now on seven under. Was Spieth put off by Tiger's challenge? Unlikely. But that's when the wheels came off nonetheless.
What happened on the sixth, a par five that Spieth found no trouble with all week was extraordinary. It was shades of his final round at Royal Birkdale last year when he ballooned his drive 100 yards off line and took an unplayable lie on the practice ground.
On Sunday, Spieth's second shot finished in a gorse bush. Perhaps the prickliest gorse bush in all of Scotland. When he arrived at the scene the American sighed and then called on the cavalry to help him. "All hands on deck," he said, as the galleries were invited to hunt for his ball.
A spectator pin-pointed its entry point. "It's 100% here," said Spieth, before sticking his arm into the needles and coming out with a thorn in his finger. He needed something to protect himself before having another rummage. He called on his caddie, Michael Greller. "Michael, get a sweater! A sweater! Michael, a sweater!"
Michael was on his way to get a sweater when a Carnoustie member by the name of David Dawson found the ball. Later, Dawson was to say that he had played round here many times and that he was never once in that bush. "It certainly doesn't look familiar," he said.
Spieth took an unplayable lie and then began the job of surveying what he had left.
"Michael, let's get a number here..." he said, when looking for a yardage.
"Tell me the number to the hole, Michael," he said again.
Greller was up and down the little hill that Spieth was perched on, madly checking the yardage on the fairway and the yardage in his book and adjusting it to take account of the angle his boss was coming in from.
"It's 108 [yards]," said Greller.
"OK, 108," said Spieth, who now had another problem with cameramen in his way.
"Come on guys. Can you just get the cameras out of my face."
The cameramen moved back, but not far enough.
"You're still there. Come on. Respect me here."
The tension in these moments was enormous. This was Spieth trying to extricate himself from potential disaster, just as he did a year ago, but only this time there was to be no act of escapology, no golfing Houdini to marvel at.
He took seven shots to complete the hole - a double bogey.
Later, he spoke about the shot into the bush and the thorn into his thumb. "I cut it a little bit," he said, holding his hand for all to see. "A little bit inside the thumbnail."
'This is what you dream about'
A few holes on, he did something else he hadn't planned on doing.
He looked at a leaderboard and what he saw was Tiger sitting on top of it. "I saw it on the seventh maybe. And it was an accident. I looked up and saw Tiger at number one, leading solo, and I went to Michael and said: 'Dammit, I looked at the board, dude.' I was frustrated at myself.
"He's like, 'he [Woods] hasn't been in this position in 10 years and you've been here how many times in the last three years'. He was throwing it back at me. I was like, 'I feel fine, it's OK, this is what you dream about anyway'."
Out on the course, the vibe was all about Tiger, then it was about Rory, then it was it about Xander Schauffele, then it was Molinari.
Spieth tried to get back in the hunt, but it never happened. Out by the ninth hole, he faced a birdie putt that might have revived him. On the balcony of a house just beyond the boundary of the course hung a political banner with the word 'Yes' on it. For Spieth, all day long, it was no, no, no. He missed the putt.
He was put on the clock leaving the 10th tee. "I actually got a bad time," he said. "I felt like we played really quickly." That was a stretch. "I really rushed the 10th and 11th holes when we were being timed. Looking back, you know, that was a turning point in the round. If you get one under on those two holes with a downwind par five left, it's a different story."
That was another stretch. Having to rush was not the source of his problem. Spieth had a birdie chance on 11 and missed. He had another on 13 and missed again. The 14th was where it had to happen for him.
Sitting on six under - three over for the day and without a birdie but still firmly in contention - he had a par five to come. There were 59 birdies and two eagles on that hole on Sunday. It was the easiest out there. Spieth made par.
The game was up then. He knew it. Leaving the green, he slapped his scorecard off his neck and muttered, "dammit!"
Two bogeys in his final three holes completed his demise. He signed for a 76. Of the top 16 overnight on Saturday, his was the worst score. Of the entire field only two guys went round without making a single birdie - Sung Kang, the South Korean journeyman and Spieth, the American superstar.
"It goes your way sometimes, it doesn't go your way sometimes," he said. Philosophical to the last. He paid a warm tribute to Molinari as his last act in Carnoustie. "He's been playing unbelievable golf," he said of the glorious Italian. "He's been working his butt off."
Spieth will rise again, that's a certainty. His travails on Sunday will have hurt him, though. Probably more than we will ever know.