Rhys Enoch: Poor final round ends great 2018 Open experience for Challenge Tour golfer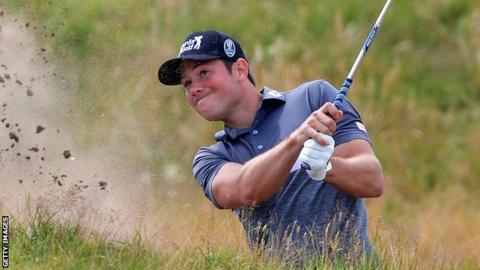 Rhys Enoch says he will not let a bad final day sour his first experience of making the cut at the Open.
The 30-year-old from Truro shot a five over par final round to drop to a tie of 67th place, having shot rounds of one under par and level par in the previous two days.
"I couldn't get going, I was just so tired and flat, it was a struggle," he told BBC Radio Cornwall.
"It's a shame because it was a real poor end to a really good week."
Enoch, who plays on the second-tier Challenge Tour, partnered Masters champion Patrick Reed on Saturday as he registered his best score of the championship.
"It'll be a week I will remember fondly for sure," he said after the final round, which earned him $24,250 (£18,451).
"But it hurts even more to shoot such a crap round today, but it'll help a lot and I've now played a Sunday in a major and I know what it feels like and I now know how to deal with it, so there's a lot to go forward with."
Enoch, who is 89th in the standings on the Challenge Tour, says his Open experience can help push him on to his ultimate goal of a place on the European Tour.
"I've got to really knuckle down on the Challenge Tour in the next two months," he said. "I haven't got enough money up as I would have liked by this point in the season.
"I've got to secure my Challenge Tour card first before I even think about getting onto the European Tour, so that's got to be my main focus."