Francesco Molinari wins 'an Open to remind the sporting public of golf's magic'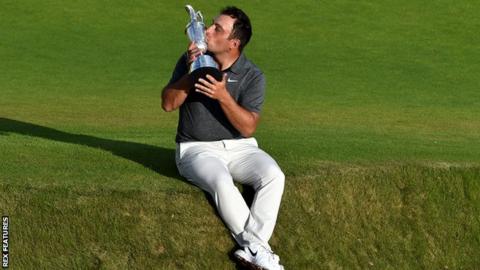 Francesco Molinari's brilliant victory capped a classic Open that proved golf's oldest championship remains the most relevant in the game.
A parched, fast-running Carnoustie provided a fitting stage for the world's best players to demonstrate their skills. They were tested to the maximum, and we witnessed a thrilling climax to a tournament won by the best player in the world at the moment.
Isn't that how it should be? This was not a course set up to punish and expose players but more to provide a canvas on which they could demonstrate their immense skills.
The result was an epic Open won by the most deserving player, who finished at eight under par.
"Carnoustie always seems to produce very special Opens, one way and another," Molinari told BBC Sport the morning after clinching his first major title.
"Maybe there wasn't quite as much drama yesterday but there were a lot of players close to the lead with a chance and I was very proud to handle myself the way I did and to come out on top."
Molinari proved wrong the doubters (I was one) who felt it was asking too much to instantly switch from the parkland surrounds of the PGA Tour's John Deere Classic to the ultra-linksy test that awaited on the Angus coast.
Walking with the Italian's group in the second round last Friday, it was clear he had his ball on a piece of string. The one-over-par 72 he carded that damp and drizzly morning was the worst he could have scored.
There were two uncharacteristic errors - an awful drive into the gorse on the 15th, where he went on to make a brilliant bogey, and a pushed approach which led to a plugged bunker shot on the 17th.
The resulting double bogey provided the last shots dropped by the eventual champion. He went all 36 holes over the weekend bogey-free with a mixture of consistent and tenacious golf.
For the final round it was done in the company of Tiger Woods, who contributed greatly to the heady nature of that special Sunday by rising to the top of the leaderboard around the turn.
There was a discernible buzz across the links as the name Woods was posted at the top of a major leaderboard for the first time in an age. But, ultimately, the 42-year-old was unable to keep pace with his serene playing partner.
Woods was impressed with what he saw from Molinari, especially a razor-sharp short game that came to his rescue on the rare occasions he was in danger of dropping shots.
"You could see him actually try and hit a couple with cut spin, a couple of draw spin," Woods said. "He was working the ball around the greens and that was cool to see."
Woods finished three shots behind in a share of sixth place, which was enough to bring him back into the world's top 50. Whatever you think of him, this is a remarkable return to golf's top table.
Now Woods is eligible for one last crack at next week's WGC Bridgestone Invitational at his beloved Akron, where he has won nine times before.
The golfing community, though, should spend some time savouring the past week in Scotland. Only Molinari's brilliance prevented an Open play-off that would have included Rory McIlroy, Justin Rose and US stars Kevin Kisner and Xander Schauffele.
"It was great to be part of it and to hear the roars," McIlroy said. "Tiger being back in the mix, you know, everything. There were a lot of big names up there, it was nice to be part of it."
The Northern Irishman battled commendably to claim the first major runner-up finish of his career but, quite rightly, still felt the need to doff his cap to the eventual champion.
"I played with him at Wentworth, where he won, and he didn't miss a shot," McIlroy said. "There's going to be a lot of European guys vying for his partnership in the foursomes at the Ryder Cup, that's for sure."
Thomas Bjorn's team is now guaranteed at least one reigning major champion among its ranks after Molinari broke America's streak of five consecutive wins in the tournaments that matter most.
"I think it was important to break the streak that they had gone on winning majors," Molinari told me as he clutched the Claret Jug behind Carnoustie's 18th green.
"It was great to see Rory and Justin up there as well, fighting it out until the end. I think they have a really strong team but we can give them a great fight in Paris."
This was an Open to remind the sporting public of golf's magic, teeing up perfectly the rest of the men's season - the last August US PGA Championship and, just over a month later, what promises to be another epic - the Ryder Cup.