Scottish Golf 'must retain Open excitement', says CEO Andrew McKinlay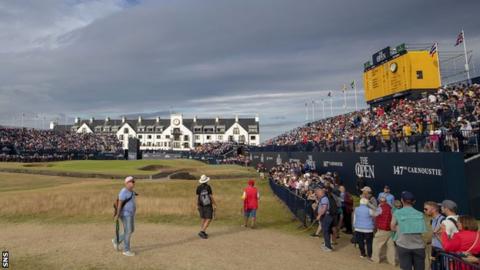 Scottish Golf cannot "live for two weeks a year" and must capitalise on the fanfare of the Scottish Open and Open Championship, says chief executive Andrew McKinlay.
The Scottish Open and Open were staged at Gullane and Carnoustie respectively on successive weekends.
The latter, won by Francesco Molinari, attracted around 172,000 spectators.
"We see this in tennis every year with the Wimbledon fortnight and we have to be very careful," McKinlay said.
"You absolutely need to make the most of it but you need to make sure you then keep that going when the so-called circus is not in town. That's the challenge. That is what our real role is.
"We're going to get loads of focus over these two, three, four weeks, so it's not hard for us to make the news at this time. It's the rest of the time when need to get out there and show what's going on, get kids involved and more women involved and show them how great a sport it is."
Scottish Golf aims to attract 15,000 new female and junior members over the next three years to help combat a decline in participation.
McKinlay, who joined the governing boy in May from the Scottish FA, believes golf is more accessible in Scotland than "many other countries".
"I actually think we have a much broader cross-section of our society playing golf than England or the States or many other parts of the world," he told BBC Scotland. "But we need to make sure it remains accessible.
"Access to clubs can be expensive but there must be so many of us that play golf that have a spare set of clubs in our garage or loft and I'd like to look at a way where we can free up some of those and get them recycled and back out there.
"So if anyone does want to pick up a golf club, I really don't want to see any barriers to being able to do that."