European Championships 2018: Michele Thomson dedicates Euros bronze to pet dog

By Kenny Crawford
BBC Sport Scotland at Gleneagles
Last updated on .From the section Golf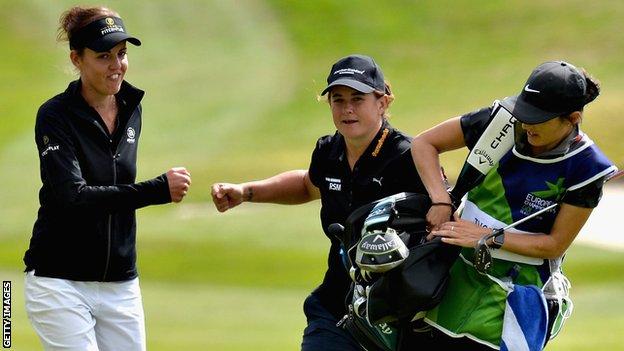 What Michele Thomson and Meghan MacLaren had to overcome to secure European Championship golf bronze for Great Britain on Sunday should not be underestimated.
Firstly, the opposition. Standing in their way - indeed two up through six holes of their foursomes match-play contest - were recently crowned Women's British Open winner Georgia Hall, and the experienced four-time major winner Laura Davies.
Then there were the elements. From Wednesday until Saturday, the inaugural European Golf Team Championships had been blessed with relatively fair weather. Mother Nature got her own back on Sunday with torrential rain, often turned horizontal by hearty gusts of wind.
And thirdly, Sunday threw up a sad, unexpected circumstance. This bronze medal arrived on the same day Thomson's five-year-old labrador Theo had to be put down because of health issues.
Thomson dedicated the bronze - and indeed Saturday's mixed team silver she won with McLaren, Connor Syme and Liam Johnston - to Theo.
It was Aberdonian Thomson's dad Graham who had to give the finer details about the death of Theo. Graham faithfully followed Michele round the soggy Gleneagles course in the success against Hall and Davies, and was the first person to hug his daughter when she left the 17th green.
There was a time when Michele Thomson's days as a professional golfer looked to be over, when she stepped away from the tour to take up a job in the police force. But the 30-year-old's medal haul here suggests reversing that decision was the correct call.
"Without a doubt, we've always thought that," her dad Graham told BBC Scotland.
"But we've always wanted to encourage her rather than insist on her carrying on her golf career.
"When she joined the police we encouraged her to do that as well, but after 18 months of watching her colleagues winning and playing golf, she just got the appetite back again.
"I think she played one round of golf and said she was going to give it another go. No disrespect to the police, but this is proof she made the right decision."
MacLaren articulated brilliantly the explanation for their excellent triumph.
"It doesn't matter who you are sometimes, you've just got to face the conditions, and that's what we did," said the 24-year-old from England.
"Anybody out there would see how much we both wanted it. We knew it was going to be a long, hard slog out there and we just knuckled down and got on with it.
"Huge credit to all those people that came out to watch, because this weather is just nasty. I would be at home on the sofa, in front of the fire, but credit to the Scottish fans who came out and supported."
Here's to Theo.