Amateur golfer hits three holes-in-one to defend club title - doubling her career total
Last updated on .From the section Golf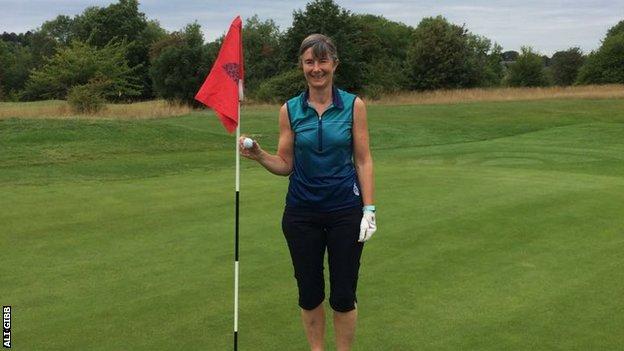 It's a moment that, if you are lucky, might happen once in a lifetime.
But a 51-year-old amateur golfer hit three holes-in-one as she defended her club championship title on Tuesday.
Ali Gibb achieved the remarkable feat at Croham Hurst Golf Club in South Croydon, Surrey - and it was not the first time she had scored a hole-in-one either.
"Today was just a weird day. It was just very, very strange," she said. "On my card I had a nine, two eights, sixes, fives, fours, threes, twos and three ones.
"Our pro Adam came up to me and said: 'I've had one hole-in-one in 42 years, you've just had three in five hours.'"
Two of her holes-in-one came on the same hole - the fifth - with the third coming on her second visit to the 11th in the 36-hole competition.
"I have had a hole-in-one before - three actually. One was here on the seventh, one at Surrey National Golf Club, and one at the Atlantic Beach Golf Estate in South Africa," added Gibb.
"It's just absolutely extraordinary. I think I will wake up tomorrow asking if I've just been dreaming about it and if it is club championship day today instead!"
Club secretary Jean Cooke said: "It was fantastic, a great occasion. It's the biggest golf day of our year, and as news travelled around the course, the buzz was spreading.
"At the award ceremony in the evening, the club bought her three bottles of champagne, and there was a really good celebration.
"Scoring one hole-in-one in a whole lifetime is unusual but three in one day is extremely rare if not unique."