Tiger Woods v Phil Mickelson: Duo to face off in $9m Vegas duel in November
Last updated on .From the section Golf341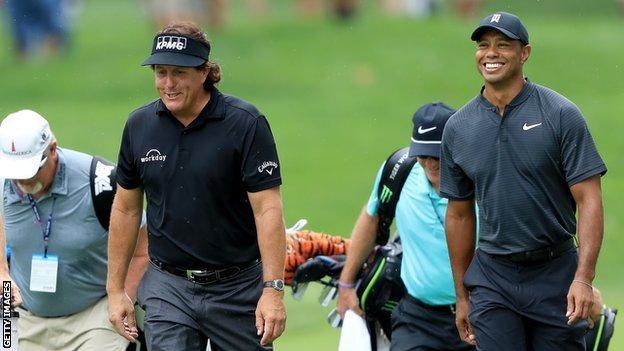 Golf greats Tiger Woods and Phil Mickelson will go head-to-head in a winner-takes-all $9m (£7m) exhibition match in Las Vegas.
The Americans, who have 19 major championship titles between them, will face off in the 18-hole event at Shadow Creek Golf Course on 23 or 24 November.
The contest, which coincides with Thanksgiving weekend in the US, will be screened on pay-per-view.
Woods confirmed "The Match" on social media, saying: "It's on".
Mickelson, who has attracted almost 100,000 followers in less than 24 hours on Twitter, replied to Woods, saying: "I bet you think this is the easiest $9M you will ever make."
At present the US Open delivers the largest winning pay cheque of the four major championships at about $2.16m (£1.68m), though the winner of the FedExCup - awarded for an accumulation of points on the US PGA Tour - can expect to earn a bonus of $10m (£7.8m).
The possibility of a duel between the former Ryder Cup team-mates has been mooted repeatedly down the years.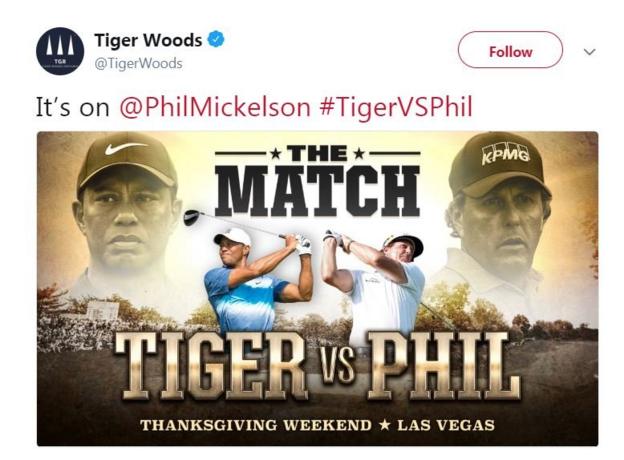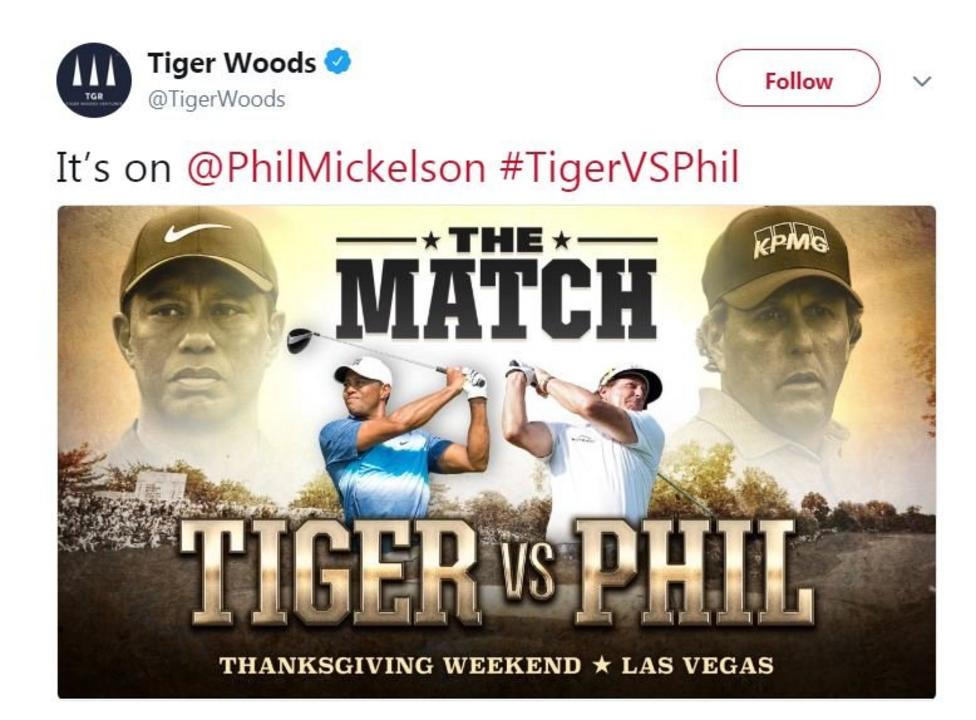 Woods, a 14-time major winner, has won over £88m prize money on the PGA Tour in comparison to Mickelson's £68m.
"It's an opportunity for us to bring golf to the masses in prime time during a period where we don't have much going on in the world of golf," Mickelson told ESPN.
"It's a way to show a side you don't normally see by having us mic'd up to hear some of the interaction between us."
Despite the good-natured approach, there is no chance of the duo sharing the purse, with Mickelson saying that the event had to be winner-takes-all.
"If you [don't] do that, it undermines it," Mickelson said. "The whole point is the winner-take-all thing. That's the exciting part about it."
Sport's biggest paydays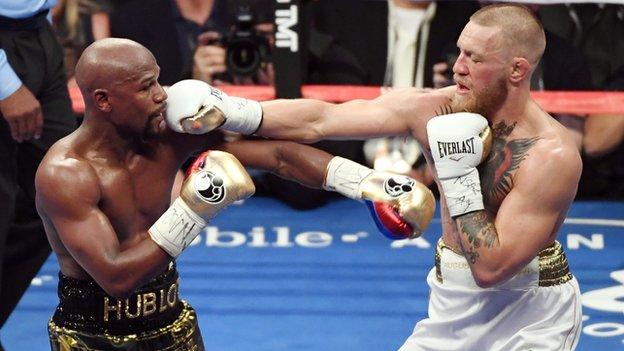 The money on offer for the four-hour long 18-hole round between Woods and Mickelson dwarfs the prize money available to an individual at any other golf tournament.
It is also larger than the £2.25m figure handed to the winners of the Gentlemen's and Ladies' Wimbledon singles titles in Tennis.
However, the winners of the Uefa Champions League in football, the World Series in baseball, American Football's Superbowl and the Rugby Union World Cup could all expect to earn more if they were victorious.
Real Madrid's efforts in the Champions League last term for example, equated to in excess of €54m (£48.5m) of performance-related money and a market pool share of over €35m (£31.4m) in prize money.
The distinction of course is that those competition are team events. Whereas the Pegasus World Cup Invitational in Florida, the World's richest horse race, offers a total prize fund of $16m (£12.4m).
The Woods versus Mickelson showdown does not though compare to Floyd Mayweather's defeat of Conor McGregor in 2017, which ranks as one of the richest bouts in boxing history.
Mayweather, 40, who came out of retirement for the fight is reported to have earned around $300m (£230m) for stopping the Irishman in the 10th round.
Analysis
BBC golf commentator Peter Alliss
It's interesting but nothing new of course.
Henry Cotton and Reg Whitcombe beat the South Africans Bobby Locke and Sidney Brews in a challenge match in 1938 for £1,000 which was a huge sum at the time.
There were challenge matches involving all sorts of players then and someone has looked at this and thought they can make money out of it.
There's supposedly been some needle between the players in the past and that may well be used to sell it.
Phil Mickelson is on his way out while Tiger Woods looks to be on his way back, after a good couple of months where he's been challenging again, so it's interesting from that perspective.
It's all a bit of nonsensical fun but I can't see this becoming a regular thing unless it's a huge commercial success and then you could see the likes of Rory McIlroy and Rickie Fowler facing each other in the future.
With all that prize money it does make a mockery of some other tournaments but it's a bit of fun, nonsense, extravagance, and show business really.