Ryder Cup: Phil Mickelson's course comments raise important questions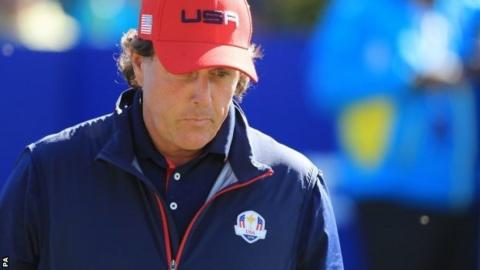 It was easy to pile into Phil Mickelson for his comments on the set up of Le Golf National at the Ryder Cup. The rough was too harsh for Lefty's liking and it seemed we had yet more evidence of American bellyaching in the wake of heavy defeat.
His words came after allegations of a dust-up between US team-mates Dustin Johnson and Brooks Koepka (denied by Koepka) and Patrick Reed hitting out at captain Jim Furyk's "buddy system" and former partner Jordan Spieth for not wanting to play with him anymore.
Reed, in turn, received heavy criticism for not buying into the all-for-one ethos that is the hallmark of any decent Ryder Cup side. From the American perspective the French fallout has been rather rancorous.
Then Phil the not so thrilled weighed in with his remarks regarding the penal set up in France.
Dense rough bordered relatively narrow fairways, putting a premium on accuracy and placement rather than raw power. "I'm 48," Mickelson said. "I'm not going to play tournaments with rough like that anymore. It's a waste of my time.
"I'm going to play courses that are playable and that I can play the aggressive, attacking, make a lot of birdies style of golf I like to play."
Condemning these comments would be harsh on the five times major champion. Indeed, the full context of what he said while putting together a welcome top-20 finish at last week's Safeway Open in California, actually conveyed plenty of meaning for the game.
Europe certainly made the most of home advantage and a course set-up aimed at negating the US big hitters. The home team's 17½-10½ victory was a comprehensive stuffing to regain the trophy.
In fact, Mickelson had no complaints. "The Europeans did a great thing, they did the opposite of what we do when we have the Ryder Cup here," he said.
And the veteran's next comment provided genuine pause for thought. He said: "The fairways were 14 to 16 yards wide. Ben Hogan, who is the greatest ball-striker of all time, had a 5% margin of error.
"So if you hit the ball 300 yards, which we all hit it more than that, you need to have a 30-yard fairway to be able to hit it."
Brute power over skill?
Mickelson is guilty of exaggerating the figures to make his argument but his point remains. And it goes to the heart of the way that the game is nowadays played.
Effectively he is saying that to properly play the contemporary power game, target areas need to be much wider.
Here is a player, who has spent more than two decades at the very top of the game, admitting that the sport is now all about smashing drives and gouging wedges.
No longer is golf a game of finesse and accuracy; clubhead speed is king and the key to on-course fun.
Is that what we genuinely want from the sport? The essence of the game should surely remain distilling down comparatively vast acreage to a four and quarter inch target.
Hitting the ball a long way is a talent, smashing it those distances to a tight target is an even greater skill. And so is plotting a strategic route around challenging layouts.
Last month's Ryder Cup was a joy, not because Europe won but because the players needed to be skilful to succeed.
Francesco Molinari split fairway after fairway and it was a delight, so too was the way that American Justin Thomas laid up short to tactically take down Rory McIlroy in the singles.
In bygone eras raw power was tempered by smaller sweet-spots in persimmon woods. Now super-sized titanium driver heads mean players can swing with abandon.
The only defence is to tighten targets or ask more sophisticated strategic questions. It does not always need to be done with thick rough and water, simply finding the correct line of approach should be the fun of the game, just as it is each year at the Masters.
This is the sort of tournament Mickelson will continue to enjoy. His skill-set is made for Augusta and he has three Green Jackets to prove it.
The 48-year-old also needed to plot his way to victory at the WGC Mexico Championship last February, the most recent and 43rd win of his PGA Tour career.
Mickelson targeting fifty
He say he wants 50 triumphs before he calls time on his stellar career, but from now on he will be only seeking to add to his tally at courses where he wants to compete.
"Now I'm going to play in the tournaments that I like, that are best for me, even if it doesn't make sense or people have a problem with it," he said.
"I'm going to have to start limiting the number of tournaments that I play so that I can play those at a higher level, because I'm getting a little bit more mental fatigue and not able to focus and see the shot as clearly as I'd like for so many weeks in a row."
Mickelson has had only one top 10 finish since that Mexico win. He was last at the Tour Championship and lost both his matches at the Ryder Cup where he looked a spent force.
There is no doubt he has earned the right to pick and choose. But predicting what Mickelson will do or say next is a pretty futile exercise - would he really miss a US Open because of its penal rough?
Who knows?
What is more certain is that his post Ryder Cup comments were well worth a listen and nothing to do with being a sour loser.