Aaron Rai: The glove-wearing British Asian taking the golf world by storm
By Alistair Magowan
BBC Sport
Last updated on .From the section Golf81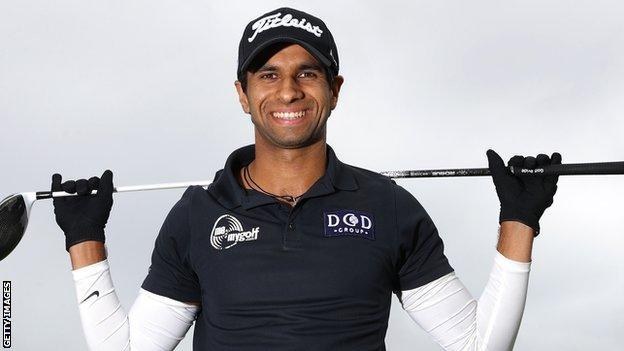 When England's Aaron Rai won his first European Tour title at the Hong Kong Open last Sunday, something marked him out as a bit different.
The 24-year-old, who wanted to be an F1 driver before becoming a golfer, is one of a growing number of players of Indian descent making their mark on the game.
But Rai's difference comes in the form of his kit; the Wolverhampton-born player always wears two gloves come rain or shine, making him look more like a goalkeeper than a golfer.
"I started wearing them from the age of eight for better grip. My game isn't pretty without them," he tells BBC Sport.
He is also not your average young sportsman to have earned £1m either. He is not on social media and he does not have an agent, all a process "to keep things simple," he says.
It appears to be paying off so far.
Channelling his inner Schumacher
There is some great BBC archive footage of a five-year-old Rai in action at his local course after winning his first tournament:
The interviewer asks him what he wants to be when he grows up, to which a cheeky-faced Rai replies: "A racing driver," before bursting into laughter.
Speaking now, he says: "That changed pretty quickly. I used to love watching [seven-time Formula 1 champion] Michael Schumacher back in the day, and it ran so deep that in junior golf competitions I wore Ferrari T-shirts and jumpers.
"That was my thing even from a young age. But since eight or nine, it became very quickly just about golf."
A putting green was installed in the family's back garden and by the age of 15, Rai was setting records. After being given a Lee Westwood putting aid, he completed 207 consecutive 10-foot putts.
"I had a couple of attempts which weren't good but at a third attempt, that happened," he says. "It was about an hour-and-a-half and afterwards I had a sore back."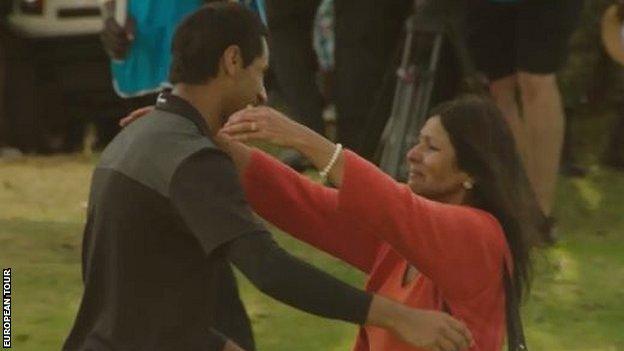 How mum helped him take up golf by accident
The fact Rai took up golf at all was an accident.
After playing with his older brother's hockey sticks as a toddler, he ended up with a nasty bruise on his head, so his mum went out to buy some plastic sticks to make things a bit safer in the living room.
But she returned home with plastic golf clubs and Rai got to repay his mum in poignant style in 2017.
Dalvir, who is of Kenyan-Indian descent and grew up in Mombasa, decided to escort Aaron to the Kenya Open in Nairobi. It was the first time she had visited the country in 47 years.
So when her son held on to win his first professional tournament on Mother's Day, it completed a perfect story as she ran on to the 18th green to congratulate him.
"To be able to share that with her was very special," Rai says. "Those sorts of things don't happen too often in life so it was amazing."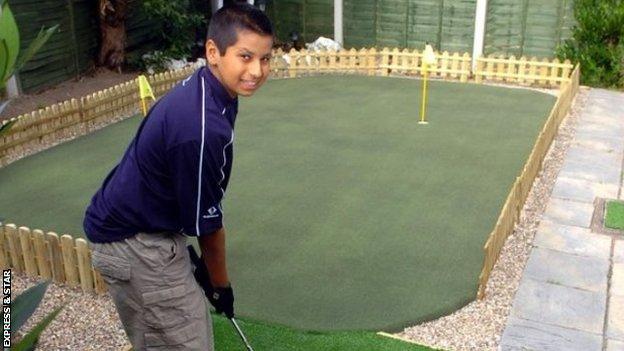 His dad is not a 'pushy parent'
Rai, who made his major debut at the 2017 US Open, says pursuing a career in golf might not always have been met with encouragement from some parents of Indian descent.
But he says his folks have always encouraged him and his dad Amrik has "always been there for support and guidance, but not in a pushy way".
Amrik was offered a tennis scholarship in the United States at the age of 20, but rejected it.
"Being from an Indian family was different back in those days," Rai says.
"It was more about getting an education and a proper job, and sport or tennis at that time was never really seen as a proper job.
"That pressure to have certain kinds of career was probably there from the previous generation and certain career paths in our culture are still more walked upon. It's aspirational to become a lawyer or doctor or dentist and have that kind of status within the family, but it's beginning to change.
"Sport is a lot bigger than what it was 30 or 40 years ago and when I say bigger, I probably mean in a financial sense.
"It becomes a bit more acceptable to pursue sport as a viable career. You are starting to see some really good Asians come through in certain sports now. Little by little it's changing and I'm sure it will continue to change in the future."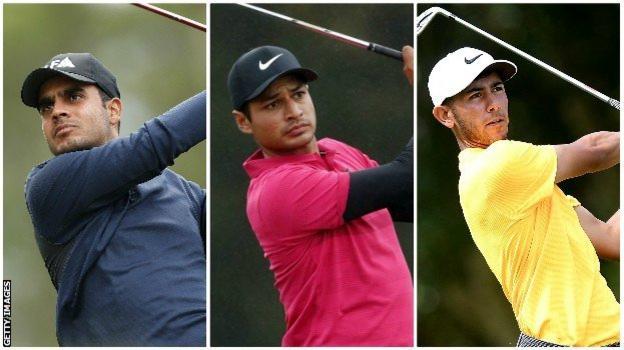 Golf 'becoming more inclusive'
Rai says traditional values could be a reason why there are relatively few Indian golfers on Tour, but he also admits there have been some rare cases of him being subjected to racism, which may also be a factor.
But he says the rise of golfers of Indian descent across the globe is another sign that "the perception of golf is changing" and becoming "a lot more acceptable and more inclusive".
He cites 22-year-old Indian golfer Shubhankar Sharma, who won twice on the European Tour last season, as "an amazing player, a great symbol for India and already a superstar".
"Then you've got Julian Suri from America who also has Indian origins from his father's side and Jack Singh Brar, who is British Asian and has just had a incredible year on the Challenge Tour. He will have a great career ahead of him.
"A lot of guys on the Asian tour who have Indian origin who have been very successful. So it is beginning to change and you are seeing more Indians and British Asians getting into golf and performing very well. It's great to see more and more guys out on Tour now."
After winning three times on the Challenge Tour and now topping the Race to Dubai rankings after his success in Hong Kong, Rai is sure to be among them.
But he is the only one who will be wearing gloves, even in the searing heat.