More needs to be done to attract people to golf - Andrew McKinlay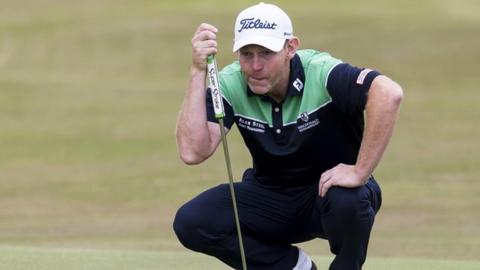 More has to be done to attract people back to golf says the chief executive of Scottish Golf Andrew McKinlay.
It follows another year-on-year fall in memberships of nearly 5000, with Scotland now having fewer than 190,000 registered players.
Around 20 golf courses and facilities closed last year.
"We're aware that the number of members are declining at the moment but it's very important for us to define those who play golf," said McKinlay.
"There's still a lot of people who play golf in Scotland that might not be members of golf clubs, and the big challenge is to make them part of the Scottish golf family."
The latest KPMG report into the state of the game shows that Scotland, along with other "key markets" England, Ireland and Netherlands have all suffered some sort of decline.
"The numbers that came out last week are numbers that we didn't recognise, because in our mind there's been a handful of courses that have closed over the last year and I know the number quoted was higher than that," he told BBC Scotland:
Twelve months ago ahead of a major conference looking at the future of golf, Scottish board member Stewart Darling said that golf in Scotland was like "the titanic if we choose not to do anything".
And ahead of a similar conference taking place in Edinburgh this weekend, McKinlay feels that the governing body must help to make golf more attractive and wants to offer so called pay-per-play players a route back into clubs.
"We're looking at a solution as to how we can bring the pay-per-play golfer more into the fold, but also we've got challenges in getting more women encouraged to play golf and getting more children to play golf," he said.
"The problem we have is they [pay-per-play golfers] are not part of the Scottish golf family.
"They obviously don't feel they want to be a member of a golf club but they obviously feel they want to play golf, and everyone that plays golf in Scotland has a responsibility to leave golf in a better state for the next generation."