Karin Sharp to lead Scottish Golf after Andrew McKinlay departure
Last updated on .From the section Golf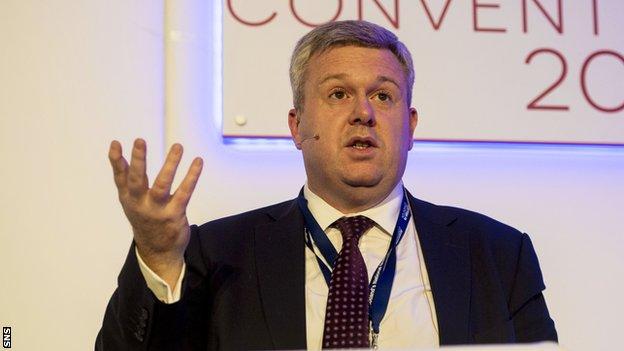 Karin Sharp will lead Scottish Golf as chief operating officer following the resignation of chief executive Andrew McKinlay.
McKinlay's departure after two years in post was confirmed on Tuesday.
Sharp, who worked for Royal Bank of Scotland for 23 years, has been with Scottish Golf as COO since 2015.
She, along with chief commercial officer Iain Forsyth, has taken a voluntary 20% pay cut.
"Now more than ever we need strong leadership backed up by robust actionable plans," said Scottish Golf chair Eleanor Cannon.
"Karin has outstanding operational pedigree gained through various leadership roles within RBS where her career spanned 23 years."
McKinlay joined Scottish Golf to succeed Blane Dodds after working at the Scottish FA, and Cannon said McKinlay "has helped take the organisation forward and has now taken a very difficult decision".
He described it as a "privilege" to lead the organisation and says the changes he put in place can lead to its "prosperous future".
Cannon revealed Scottish Golf has had to make "some very difficult decisions" to remain sustainable amid the coronavirus pandemic.
The organisation has issued a "financial health check survey" to gather information, about the impact of Covid-19 on golf clubs.
"This detail will directly contribute to, and significantly inform, our ongoing dialogue with Scottish Government in relation to the struggles faced by golf in Scotland," Sharp said.
"This information is crucial. To enable us to represent the situation accurately and effectively, I urge all clubs to complete the survey at the earliest opportunity."