European Gymnastics: Tweddle retains uneven bars title
By Ollie Williams
BBC Sport in Berlin
Last updated on .From the section Gymnastics
Britain's Beth Tweddle retained her European uneven bars title at the championships in Berlin.
Tweddle, who recently turned 26, scored 15.100 to beat Russia's Tatiana Nabieva (15.075).
"It wasn't one of my best but it was enough," said Tweddle who has now won three consecutive European bars titles.
Team-mate Louis Smith pointed the finger at a wayward TV camera after falling in his pommel horse final, finishing sixth with a score of 14.150.
Attempting a new routine with harder elements, Smith - who turns 22 later this month - was one of three gymnasts to come off the apparatus as his Hungarian rival Krisztian Berki took the gold, scoring 15.625.
The fall was Smith's second in a major championship final since winning Olympic bronze at the Beijing Games in 2008 - the other coming at the World Championships in London the following year.
"I got a bit distracted - a guy with a big camera crane went right underneath me, and it's not really where you put a camera when you're circling on a pommel horse," Smith told BBC Sport.
"But you can't pass the blame - it was my error, my mistake, and it's unfortunate these things happen.
"If I'd done my routine clean I would have got a medal. If you take your camera and follow me into the training gym, I'll show you how well I can do that routine. It won't be hard to bounce back."
Smith won pommel silver behind Huntingdon Gymnastics Club team-mate Daniel Keatings at last year's European Championships in Birmingham. Keatings is absent this year through injury.
Both Smith and Tweddle have introduced new elements to their 2011 routines in an attempt to improve their scores ahead of this year's World Championships and the London Olympics in 2012.
But Tweddle's outing in Berlin proved by far the happier - the Liverpudlian creeping into gold-medal position as the last gymnast to compete on the bars.
Her path to the title was aided by the withdrawal of Russia's Aliya Mustafina, who suffered a knee injury at the start of Friday's women's all-around final.
According to her official website, tests have shown the 16-year-old tore her anterior cruciate ligament when she landed awkwardly on a vault. She will undergo surgery on Tuesday.
It is unknown how long Mustafina will be out of action. The world championships, a crucial part of qualification for London 2012, take place in October.
Tweddle has now won six titles in European competition, adding to the three gold medals she has won at world championships.
"It was more a training routine [than the full 2011 routine] and there were a few mistakes in there," said Tweddle.
"Adrian Stan [the GB women's technical director] told me last night to play safe, and that was almost more pressure - saying 'don't panic' and then I'm thinking it's easier than it's meant to be.
"But the routine is brand new and I've got to A to B every time I've done it.
"Potentially it could be up to a 16.000 score. In qualification I reached 15.500 with a couple of mistakes and if I add anything for next year, it could go up again."
Kristian Thomas and Dan Purvis, in action in the men's floor final, finished fourth and seventh respectively.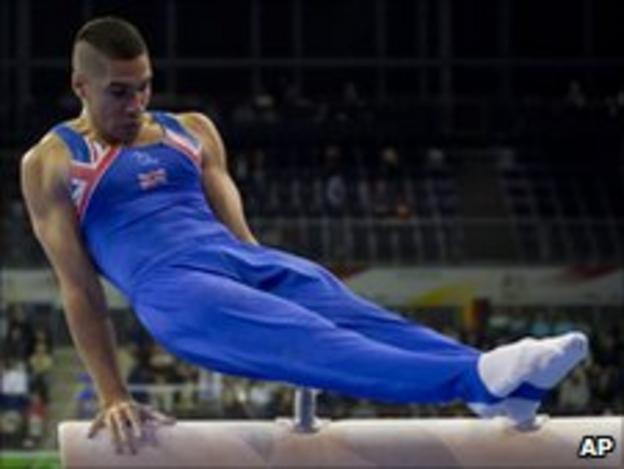 Purvis opened Britain's medal account inside Berlin's Max-Schmeling-Halle on Friday, winning bronze in the men's all-around event, which tests a gymnast's ability across all six sets of apparatus (four for women).
But his floor routine on Saturday was beset by minor errors, dropping him out of the running with a score of 14.400.
A strong routine from Thomas earned him 15.300, only 0.025 points outside a medal, while Romania's Flavius Koczi posted a total of 15.500 to win gold.
Romania earned a second gold as Sandra Izbasa won the women's vault ahead of German veteran Oksana Chusovitina, while Russia's Konstantin Pluzhnikov became European champion on the rings, beating team-mate Aleksandr Balandin.
Sunday's finals see Tweddle defend her other European crown, the floor.
Tweddle won the floor world title inside London's O2 Arena in 2009 and is undefeated in the event since 2008 at European level, but is nursing a calf injury which she believes takes her out of the running for medals.
"Floor is a total bonus," she told BBC Sport. "Coming into this championships I wasn't even going to compete on it.
"I'll get out there again but I'm not aiming for a medal because I haven't had the training."
Hannah Whelan will compete on the beam, in the process becoming the first British gymnast since Tweddle in 2002 to take part in a major beam final.
And 18-year-old Sam Oldham, a Youth Olympic gymnastics champion last year, has reached Sunday's men's high bar final on his senior debut at a major championships.
The European Championships are a last opportunity to try new, tougher routines inside a large arena ahead of October's all-important World Championships, where Olympic qualification is at stake.
The Worlds are scheduled to be held in Tokyo but alternative venues are being considered following the recent earthquake and tsunami in Japan.