Worlds selection battle begins with Hannah Whelan win
By Ollie Williams
BBC Sport
Last updated on .From the section Gymnastics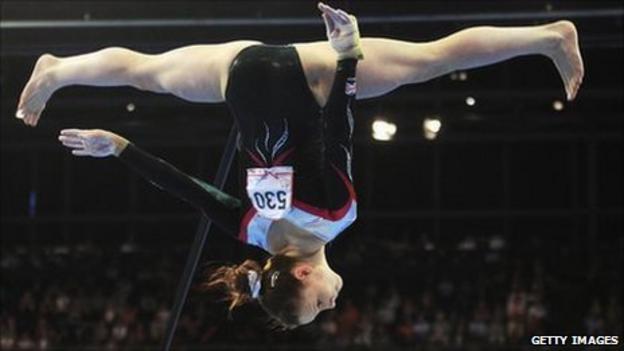 Britain's top female gymnasts have begun their battle to reach the Olympic Games with victory for Hannah Whelan at the British Championships in Liverpool.
The 19-year-old defended her all-around gold on Saturday and added silvers on Sunday in the beam and bars.
Veteran Beth Tweddle won gold on the uneven bars and floor.
Results from the event help to decide the British team for October's World Championships in Japan, which double as an Olympic qualifier.
At least a dozen women have a case for a place on the six-berth Worlds team.
"Selection will be tough and I'm glad I'm not picking the team," said uneven bars world champion Beth Tweddle.
Tweddle, 26, is certain to be included in the squad for Tokyo as long as she remains injury-free, having dominated the British scene for the past decade.
But the five remaining places will be decided on the basis of results at the British Championships and a series of international friendlies in August and September.
"In all our competitions, our technical director will be seeing who's fit and who has the routines," said 19-year-old Whelan, who is now all but certain to be selected having defended her British title.
"It's tough. Great Britain has got a lot stronger and that's a good thing. It pushes you that bit more in training and makes it more worthwhile when you're in the team."
Both Whelan and Tweddle are City of Liverpool gymnasts and as such are competing in their home cities.
To qualify the maximum number of gymnasts for the Olympic Games, the British team must place among the top 12 in the world.
In practice, that means finishing in the top eight at this year's World Championships or the top four at an additional qualifying event in January next year, which will double as the Olympic test event at London's O2 Arena.
"We're going for that top-eight spot in Japan," said Tweddle. "We went for top eight last year, in Rotterdam, and qualified fifth - so we should, touch wood, be OK.
"The all-important thing is qualifying in the top 12 but we want to do that at the first time of asking and not have to wait until January."
The same qualification system applies to the British men's team.
If a team does not meet the criteria, Britain will be limited to a single gymnast per gender at the Games - which is unthinkable given the recent progression of British gymnastics into a major power on the world stage.
Tweddle has won three world titles in the past five years while Daniel Keatings and Louis Smith both have world silver medals to their name.
The GB squad's aim in 2012 should be to surpass their haul of one bronze medal at the Beijing Games in 2008, won by Smith, who became the first British gymnast in a century to win an individual Olympic medal.
But getting into that squad will prove an immense challenge. The current crop of senior gymnasts already face the danger of being edged out by younger, brighter prospects in a sport where talents can emerge in less than a year.
"We are one of the only countries who have recently been able to field two teams, when we sent one to the Commonwealths and one to the Worlds last year," Tweddle told BBC Sport.
"We had 14 or 15 of us training this week, with some juniors who can move up next year as well.
"Six months or a year can make such a difference. A gymnast can lose fitness or upgrade their routines and happen to pull it off at the right moment."
Watch the women's British Championships live on the British Gymnastics website