Beth Tweddle leads strong GB gymnast squad at World Championships
Last updated on .From the section Gymnastics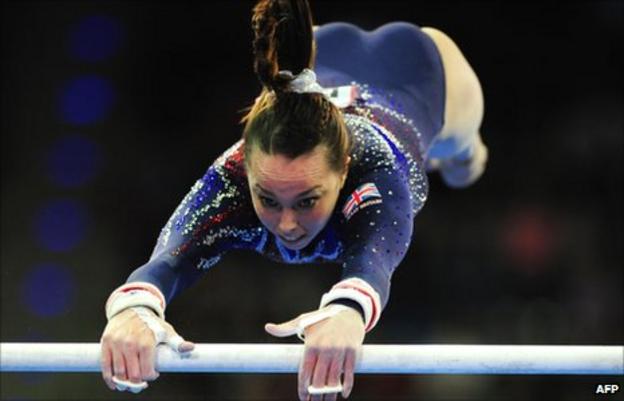 Three-time champion Beth Tweddle will lead a strong British team at the World Gymnastics Championships next month.
The Tokyo event from 10-16 October acts as the first qualifying event for places at next year's London Olympics.
Both British teams will need to finish in the top eight in Tokyo to ensure having the maximum number of gymnasts at the Olympics for the first time.
If the men or women miss the top eight there is one last chance at the test event in London early next year.
British Gymnastics Olympic Performance Director Tim Jones is determined to avoid the risk of disruption to preparation which that scenario would create.
"We are very clear that our priority for these Championships is to qualify both of our teams for London at this first opportunity," he said. "From the way our preparations in recent weeks have gone and the quality of the gymnasts we have named, we believe we have every chance of achieving this goal."
Even when Louis Smith won Britain's first individual Olympic gymnastics medal for a century at Beijing in 2008, the British team only featured two men where other nations sent up to six.
"We have made some strong progress within both of our artistic programmes throughout the course of this Olympic cycle, proving that we can now be considered consistent medal contenders on the world stage," Jones added.
"This has been important as we continue to work to enhance the reputation of British Gymnastics and enter the business end of the run into the London 2012 Olympics."
Tweddle, who won Britain's first World Championship gold medal in 2006, defends her title on the uneven bars in what will almost certainly be her last-ever appearance in the competition, as she is expected to retire after the London Games.
Daniel Keatings, who won a silver in 2009, only returned to action in July after a year on the sidelines because of a cruciate injury, and will be anxious to prove his fitness.
There will be two notable international absentees in Tokyo.
Earlier in the week the US announced their women's team and omitted Beijing Olympic champion Shawn Johnson, who had been hoping to make a comeback in Tokyo.
And Russian Aliya Mustafina, the double world champion and winner of four medals in total last year, has not recovered from a knee injury sustained at this year's Euros in Berlin and will not return to action until early 2012.
Men's team: Daniel Keatings (Huntingdon), Daniel Purvis (Southport YMCA), Kristian Thomas (Earls), Louis Smith (Huntingdon), Max Whitlock (South Essex), Ruslan Panteleymonov (Hinckley), Sam Oldham (Huntingdon)
Women's team: Beth Tweddle (Liverpool), Danusia Francis (Heathrow), Hannah Whelan (Liverpool), Imogen Cairns (The Academy), Jennifer Pinches (Liverpool), Laura Edwards (Dynamo), Rebecca Downie (Notts)
BBC coverage times:
Tuesday 11 October
Women's Team Final
1050-1310, BBC Red Button/online; 1300-1500, BBC Two/online
Wednesday 12 October
Men's Team Final
0950-1240, BBC Red Button/online; 1330-1530, BBC Two/online
Thursday 13 October
Women's All Around Final
0950-1155, BBC Red Button/online; 1300-1500, BBC Two/online
Friday 14 October
Men's All Around Final
1050-1350, BBC Red Button/online; 1300-1500, BBC Two/online
Saturday 15 October
Individual Apparatus Finals
0520-0830, BBC Red Button/online; 1630-1800, BBC Two/online
Sunday 16 October
Individual Apparatus Finals
0550-0905, BBC Red Button/online; 1600-1730, BBC Two/online